CAESAR Quick Tour
Northwestern's CAESAR system is packed with tools for handling tasks like updating your personal profile, paying tuition and fees, tracking financial aid, and managing classes and grades. Once you've activated your NetID, you can take a quick tour of CAESAR. Just go to northwestern.edu/caesar and log in to the system by entering your NetID and NetID password at the prompts.
Home Page Elements
The home page shows CAESAR's components arranged in tiles. Tiles will be added as additional components become available to you over the summer and in the fall.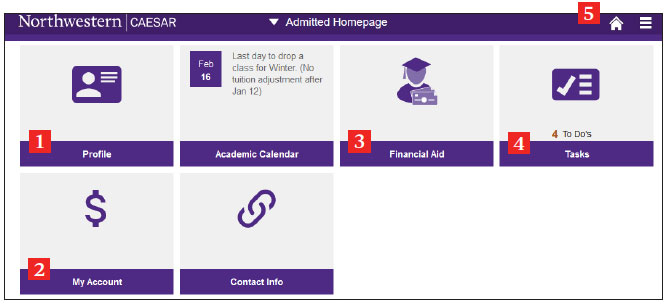 1 The Profile tile opens to pages for viewing and updating your user preferences and contact details. Another key function of this tile: setting up guest access to let others view and pay bills. From July through September, you can use the Profile tile or the Tasks tile to make your student health insurance coverage selection.
2 The My Account tile leads to pages for viewing University charges and payment options.
3 The Financial Aid tile has information about applying for and managing financial aid. It features a To Do List that will show any aid-related tasks that come up this summer.
4 The Tasks tile is where time-sensitive University to-do's are consolidated for easy tracking over the academic year. 
5 The home icon—a shortcut to the CAESAR home page—stays in place while you navigate the site.