Health Information Management Services (Medical Records)
Health Information Management Services (Medical Records)
Location & Hours
Room G.125c, Health Service, 633 Emerson Street, Evanston Campus
Hours: 8:30 a.m. to 5:00 p.m., Monday through Friday.
Questions? Call 847-491-2117.
Your health information at NUHS is strictly confidential and contains your personal health history and assures continuity of care. This record is kept confidential and is not released to anyone without your written consent, except in compliance with state and federal laws (i.e., subpoena, court order, health department reporting requirements, etc.) The Health Service maintains all patient health information for at least 10 years after your last visit.
In response to COVID-19 and the efforts to minimize exposure, the Health Information Management Services department is limiting face-to-face contact.  Consequently, requests for release of health information may be submitted electronically by emailing the required form, available via the link in the following section, to hims@northwestern.edu.   Per the instructions on the form, it may also be faxed or mailed.  During this time, you also have the option to receive a copy of your health information via secured email; please note this preference on the form.  We appreciate your understanding as NUHS continues to provide essential services during this challenging time. 
Release of Information Requests
To obtain or release copies of your health information, complete and submit a Release of Information Form (PDF). This includes information being disclosed to parents of students over the age of 18.
If you are unable to print the above release form, we will accept a written request (either faxed or via U.S. Mail) which includes the following:
Your full name -- maiden if married
Your 7 digit Student ID as documented on your NU WildCARD (we realize that graduated students may not be able to recall this number, in this case just leave it blank and make sure to record your date of birth where requested. However, the Student ID is very helpful to us in locating and identifying your record)
Your date of birth
The date you entered and exited NU
Exact information to be released and to whom
Your signature and the date (we cannot legally process those that are not signed)
We cannot accept verbal or email requests.
Requests for behavioral/mental health records MUST be made through Counseling and Psychological Services. Please call 847.491.2151 for more information.
HIV/AIDS, Alcohol/Drug abuse records are subject to different regulations and we will not release these records, even when the request is for a complete record, unless indicated specifically in your request.
Fees Associated with Releasing Health Information
A $25.00 fee applies for NUHS to provide a copy of an entire medical record, payable to Northwestern University by personal check or money-order. Credit card payment is accepted only when paying in person at the Health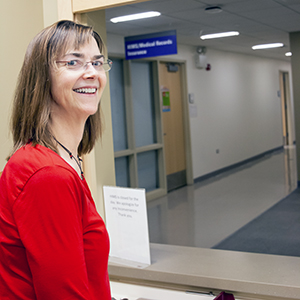 Service - Evanston Campus. For students, there is no charge for releasing a portion of the health information (e.g. immunization record or a specific lab test, etc.).
There is no charge for release of health information from the NU Health Service directly to another health care provider (e.g. HMO or personal physician).
Mail requests to:

Health Information Management Services
Northwestern University Health Service
633 Emerson Street
Evanston, IL 60208-4000
Please direct all fax requests to: 847.491.8699, "Attention: Health Information Releases." The usual turn-around time for copies is 5 to 7 business days upon receipt of the request.