Recycle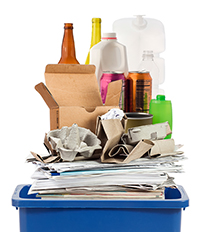 Recycling has been a part of Northwestern University's campus greening efforts since 1989. Students started the program and it is now part of daily operations across our campuses. The University currently recycles more than 2,700 tons of materials per year and diverts 40 percent of campus waste from landfills.
Recycling is an essential strategy in our sustainability efforts. You can help reduce waste by properly recycling everything from paper and glass to computers and light bulbs. The following resources offer guidance on what and how you can recycle at Northwestern.
What you can recycle
As of February 15, 2016, Northwestern has moved to mixed recycling. This means that paper, cardboard, cans, glass, and plastic are collected together in the same recycling bins. Northwestern has separate collection processes for other materials including electronics, batteries, light bulbs, and scrap metal.
Waste Reduction Resources
For more information
If you need additional recycling bins or bin labels, or have questions about recycling and waste management, please contact sustainNU at sustainNU@northwestern.edu or 847-467-1374.