NU Sustainability Fellows Feature: Project Green Bus
Northwestern University's commitment to sustainability is exemplified by its five-year partnership with Ameresco, Inc., a leading cleantech company specializing in energy efficiency and renewable energy. This partnership will reduce Northwestern's carbon footprint through building and infrastructure upgrades, smart building technology implementation, building automation, and alternative energy systems. The partnership also creates experiential education opportunities for Northwestern students interested in sustainable energy management. These opportunities include funding towards an annual Sustainability Fellowship program that provides a tuition stipend for up to 16 students annually (NU Sustainability Fellows) as well as two paid, full-time co-op-style internships enabling students to apply energy and sustainability concepts to real-world problems and grow as leaders in sustainability.  
NU Sustainability Fellows are selected to work on a revolving set of projects during summer and winter quarters. Upcoming winter projects include a new effort focused on food inequity and the role of indoor agriculture in the Chicago area as well as the continuation of a previous Fellowship project - "Project Green Bus" - an ongoing initiative aimed at evaluating the electrification of Evanston School District 65's bus fleet.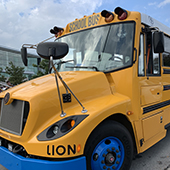 Photo courtesy of the Environmental Law and Policy Center
Electric school buses remain a largely unexplored area of sustainable transportation, and Project Green Bus would result in the first Head Start Program to ever be served by an electric school bus. A nationwide shift to electric vehicles would translate to significant health and wellness benefits, particularly for low-income, disadvantaged communities that are systematically exposed to higher levels of air pollution. According to an American Lung Association study on the impacts of electric vehicles, transitioning to electric would result in the prevention of 6,300 premature deaths, 93,000 asthma attacks, and 416,000 lost work days by 2050. The greater Chicago area was found to be one of the top 16 metro regions that would benefit most from a transition to electric vehicles overall, including electric buses. 
Electric school buses are a particularly unique and untapped source of energy for local power grids. Through vehicle-to-grid (V2G) technology, electric vehicles can supply local energy grids with excess energy stored in vehicle batteries. The battery capacity of a typical electric passenger vehicle ranges between 20 to 100 kWh. The battery capacity of a typical electric school bus is significantly larger, averaging 210 kWh, the amount of energy needed to power 7 homes in the Evanston area for a full day. Since school buses are only used approximately 10% of the year, they are a huge source of untapped energy. Utilizing excess energy from electric school buses would increase the reliability of the local power grid, which is rated as one of the top issues for nation-wide electric infrastructure. After a comprehensive assessment of School District 65's bus fleet and the potential benefits of electrification, Project Green Bus is now working to secure Lion Electric Company's LionC electric school bus with Compass Transportation. 
Brian Tolliver, an Adjunct Professor with Northwestern's Master of Science in Energy and Sustainability program, and Susan Mudd, Senior Policy Advocate for the Environmental Law and Policy Center, partnered and advised on this project and have noted the impact Project Green Bus has on the students who participate. Mr. Tolliver notes that this project has given students real-world experience with sustainable energy and infrastructure, "whether they might want to go work at an electric bus manufacturer, or pursue employment in infrastructure or policy, this experience opens the aperture for potential career opportunities and pursuits." This project allows students to work with local city government, law and policy experts, and the private sector. Ms. Mudd notes that "Project Green Bus and this fellowship program have helped advance this issue in Illinois, which has led to a greater understanding for many people at Northwestern and beyond."  
Applications for NU Sustainability Fellows are open November 8th – 24th for both the Project Green Bus and the Food Inequity Project. You can access the NU Sustainability Fellows Application here for the Winter 2022 cycle.