Earth Month 2021 Wrap Up Note
Thank you for celebrating Earth Month 2021 with sustainNU! Regardless of location, members of the Northwestern community came together during the month of April to take action by participating in sustainNU's virtual and, for the first time ever, hybrid events. 
 
We organized a month-long photo contest, which received 26 submissions and garnered nearly 1,500 views and over 150 votes for our finalists.  
Nature Category


Winner: Maelea Tan - Returning HomeOne of the most breathtaking views overlooking the lush cliffs and deep turquoise water of Coron, Palawan. Philippine bangkas line the wooden paths, leading to the entrance of a hidden cove.
Runner-up: Kara Ferracuti - Rays of Hope A child embarks on a journey of discovery, captivated by the endless wonders of nature. As he takes a step forward, rays of hope for the future of our planet shine upon him.
Runner-up: Lauren Masse - Iguanas on the RocksThis photo of a Galapagos marine iguanas was taken on Fernandina Island in the Galapagos Archipelago. The Galapagos, one of the largest marine protected areas in the world, encompasses one of the most biodiverse and unique ecosystems in the entire world. Due to a lack of natural predators and strict regulations on human activity, the wildlife in the Galapagos is not afraid of humans, indicating a harmonious relationship that epitomizes healthy and sustainable environmentalism.

Environmental Sustainability Category

Winner: Annamarie Jedziniak - City Green SpacesThis photo depicts a green space in an urban environment, which are beneficial for a multitude of reasons. When designed properly, they can reduced temperatures and pollution while also providing habit for species that increase/maintain biodiversity. Green spaces can also influence people to use more sustainable modes of transportation like biking and walking as it provides a safe setting compared to streets.
Runner-up: Christina Chen - Three Modes of TransportationAlong a busy street in Chicago, there are three modes of transportation - by foot, by bike, and by car.
Runner-up: Michael Niedzwiedz - Clean Energy Solar System11.9kwh Solar system, grid tied, clean energy
In collaboration with Wild Roots, a student-run garden on campus, and Northwestern Dining, we hosted a hybrid planting workshop, with ten Northwestern community members attending in-person and over 30 attending virtually. Participants learned about the ins and outs of growing plants from seed and from food scraps. Following the planting demonstration, Sarah Levesque, Sustainability Director of Compass Group, conducted a virtual tour of Allison Dining Hall's hydroponics garden.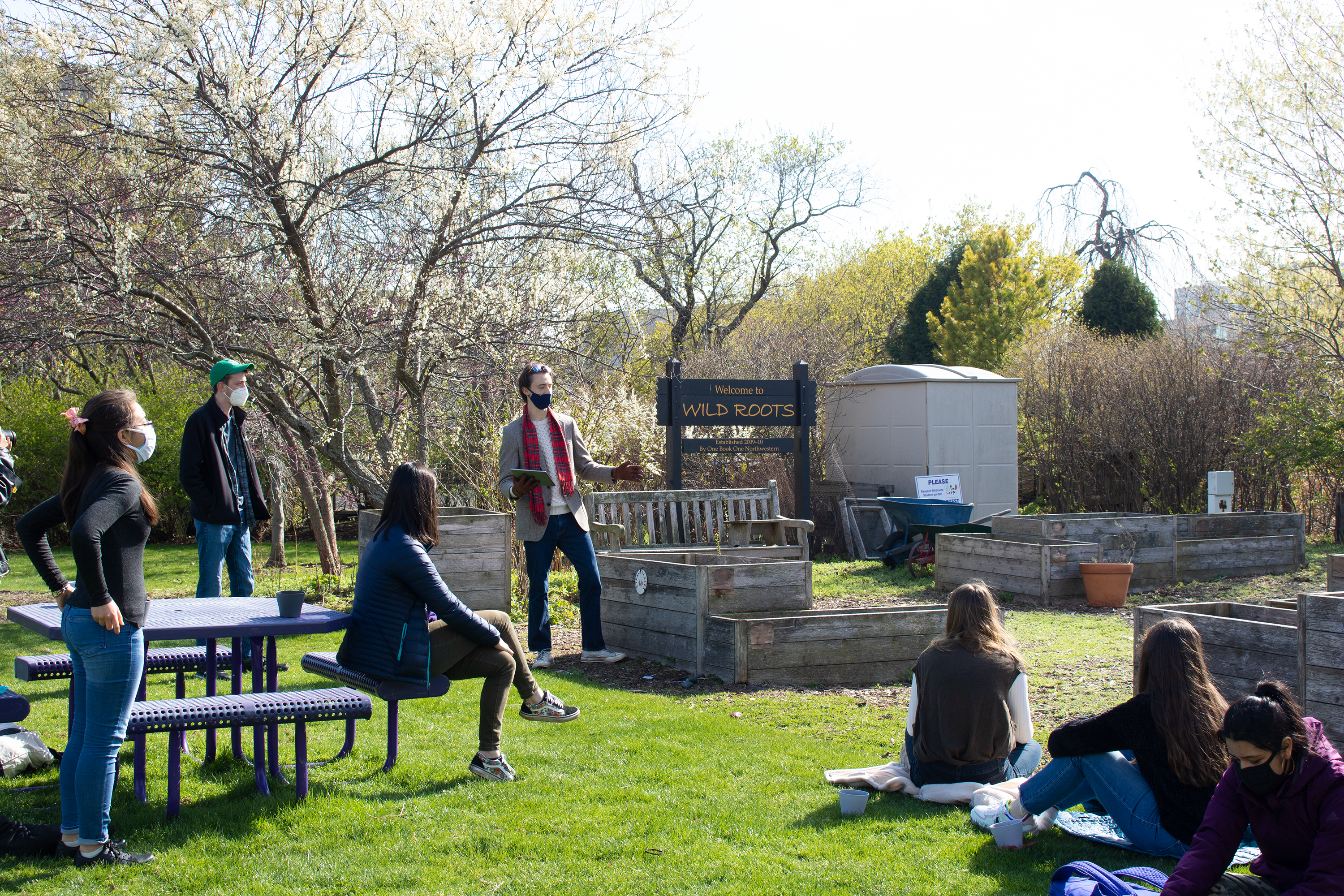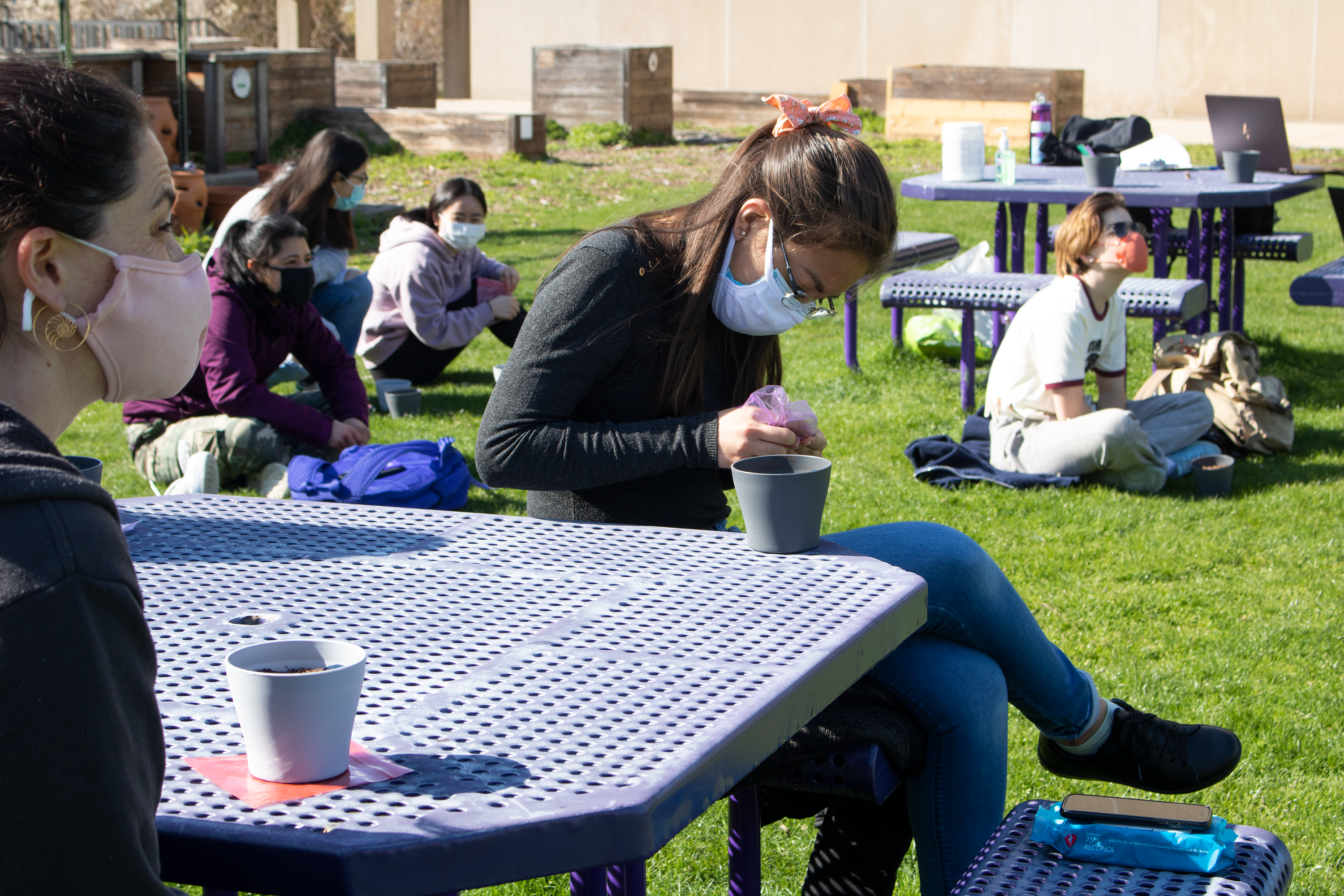 We tested the Northwestern community's knowledge on all things sustainable. Sustainability Trivia Night featured an intense round of 45 trivia questions on subjects such as resource conservation, the built environment, Northwestern's sustainability achievements, nature and wildlife, and climate change.  

Northwestern University is committed to environmental stewardship through maintaining and enhancing the natural surroundings of its campuses. In celebration of Arbor Day and Northwestern's 2020 Tree Campus Higher Education recognition, we hosted a tree planting event along Sheridan Road. Despite the gloomy weather, volunteers from the Northwestern community left their mark on Evanston by planting ten trees. From oak to elm, the trees planted will serve to clean our air and house birds and squirrels for decades to come.  

"Preserving the natural environment is a vital part of the University's community identity. In many ways, trees anchor our community, quite literally holding the soil in place," said Dave Davis, Northwestern's Executive Director for Neighborhood and Community Relations. "We are proud to partner with the City of Evanston and Chicago Gateway Green to celebrate Arbor Day." In 2020, Northwestern was honored with the Arbor Day Foundation's "Tree Campus Higher Education" designation for its commitment to effective campus forest management and green space education and engagement efforts.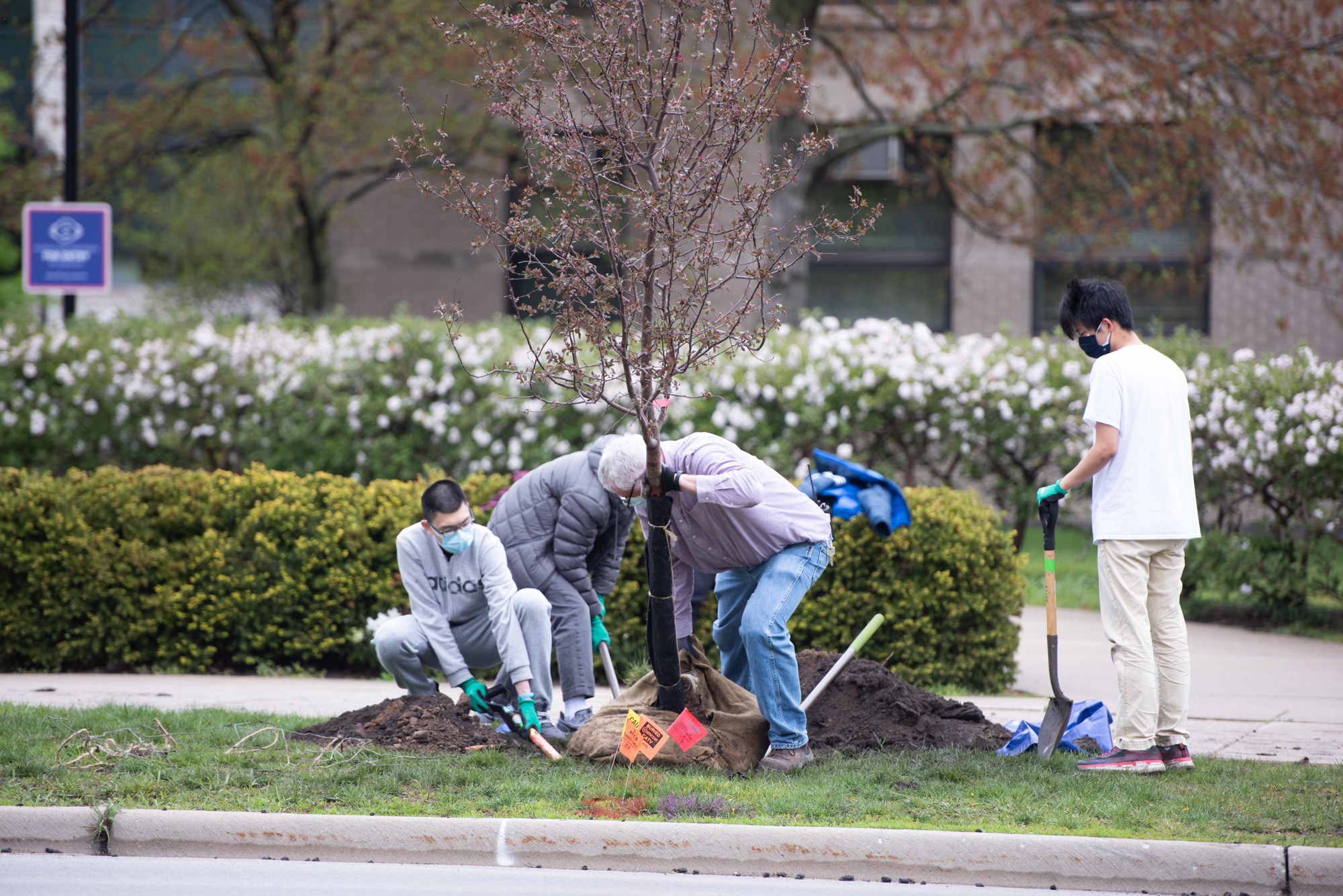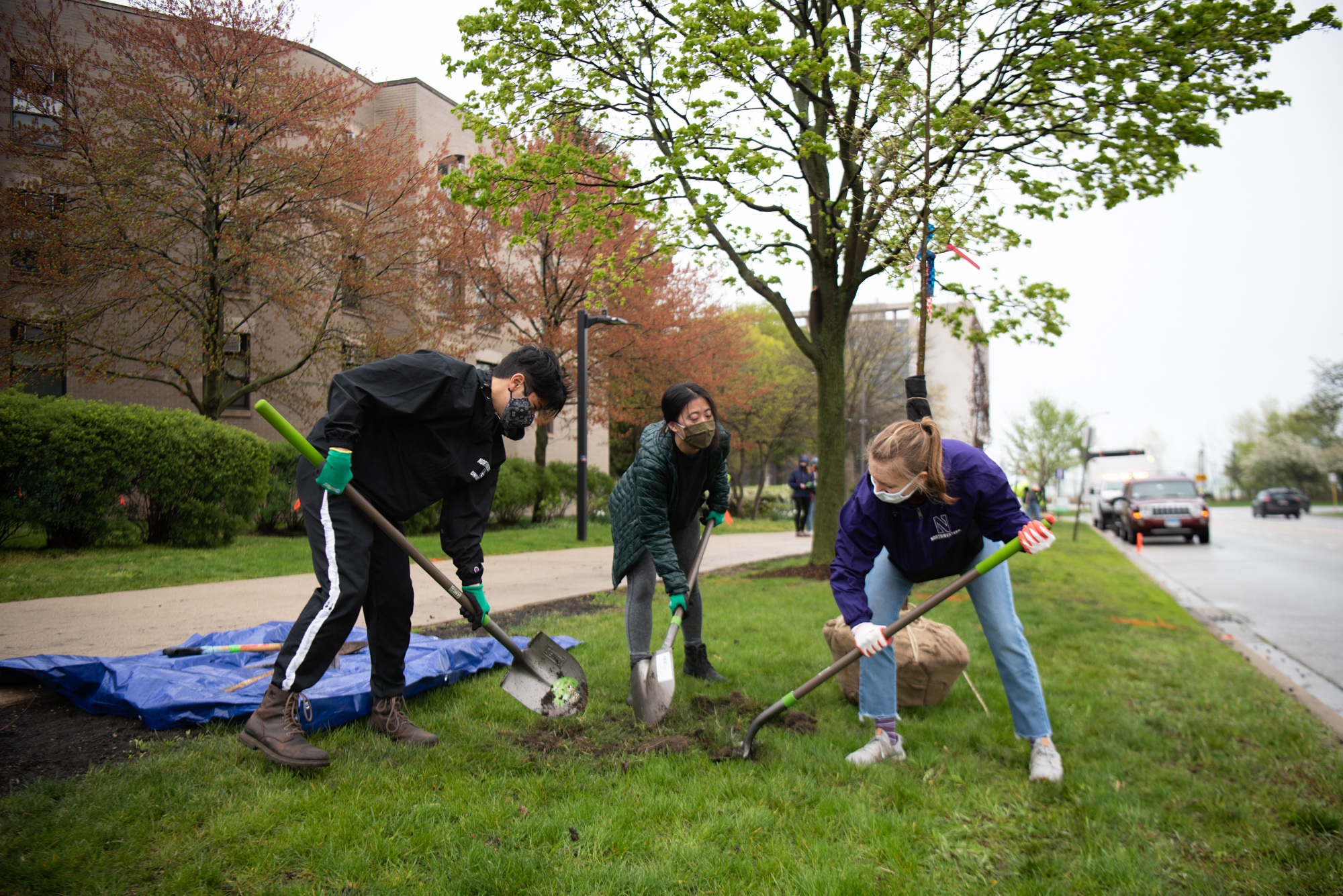 All tree planting photos by Matt Mansueto Photography, Inc.
The Tree Campus Higher Education award is a wonderful recognition of the efforts that go into maintaining the natural surroundings that identify our campus and the service of our dedicated Grounds crew. It is their hard work that supports a thriving tree canopy on campus. 
We hope you will continue to take action beyond Earth Month. Environmental impact is accumulated through the things you do and is not limited to one place or time. Please continue to think about sustainability in your home or workspace. Join environmental groups on campus or in your community. Continue to learn and read about our planet and how to protect it and the people living on it. 
Thank you for helping us sustain our Northwestern community, from wherever you may be. As we transition back on to campus, we hope you continue to find ways to connect to the Earth and your community.