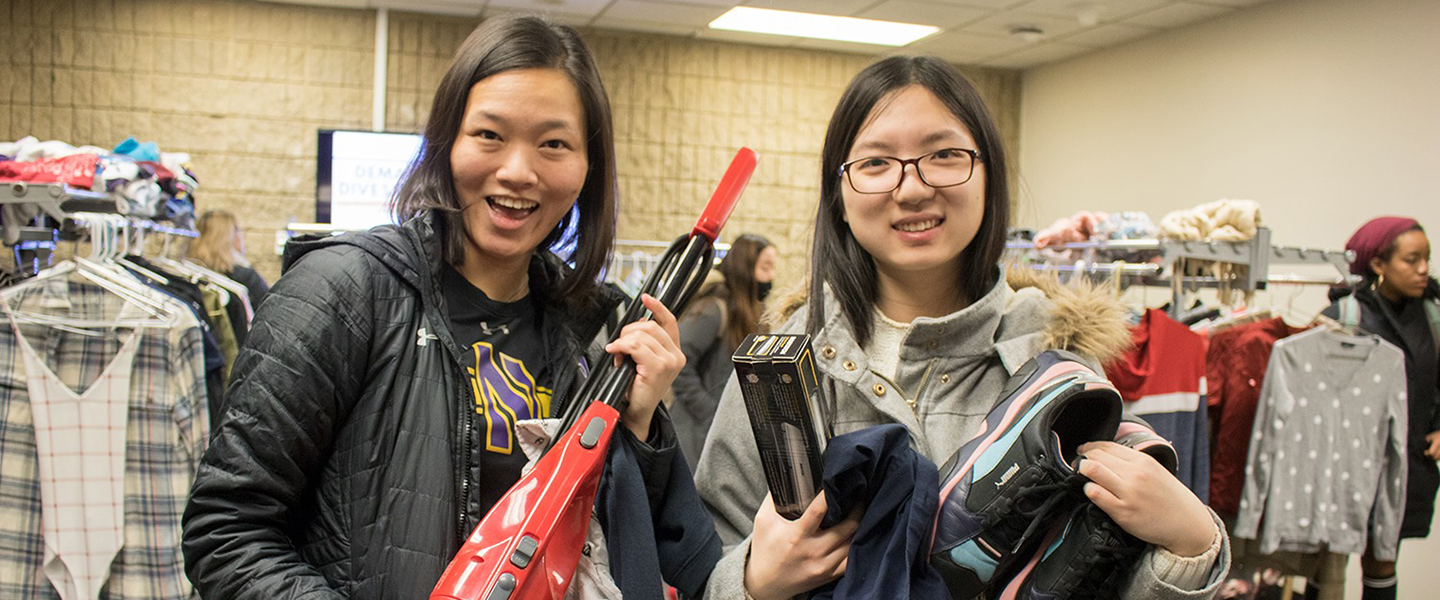 NU Thrift—A Student-Run Pop-Up Shop Driven by Sustainability
Noticing a lack in affordable second-hand clothes near campus, sophomore Sam Liu had an idea—a student-run thrift shop located on Northwestern's campus. She approached the Student Enrichment Services office to ask about assistance and was connected to Melissa Batz, another student who had a similar idea. Together they worked on a plan for a permanent space, but they knew it was important to pilot the concept in order to gauge student interest and get feedback.
Near the end of spring quarter 2019, NU Thrift was launched. Boxes were placed around residence halls asking for donations and the pair picked up the clothes. The pop-up shop in Norris ran for a few days, and students were excited about the startup.
"A lot of people came up and just said this is such a great idea; you should keep doing this; I'm so glad you've done this," Liu said.
Sustainability was a driving force behind the idea from the start. Liu noted that the
Integrated Solid Waste Management Plan
from sustainNU mentions that Northwestern has no source for recycling textiles. Part of the mission of NU Thrift is to become one of those sources. Liu hopes that NU Thrift helps students think critically about their consumption habits, and that it becomes a permanent space as a resource for low-income students.
NU Thrift has so far diverted 450 items from the landfill—including textiles, dorm necessities, costumes and even a vacuum, all for $2 a piece through two cycles of pop-ups. The fashion industry accounts for
10% of worldwide carbon emissions.
While some companies offer clothing recycling programs, most clothes end up in the landfill each year. Somewhere between 20 and 30% of donations to thrift-store charity shops don't end up being resold. NU Thrift collects clothing items that are in line with current trends, increasing the likelihood of the donations getting a second life.
sustainNU runs the
Take It or Leave It
program during student move-out, diverting around 8,000 lbs of clothing and small goods each year. This pop-up venture could help make sure students have a year-round textile resource. Currently, students must seek off-campus donation bins or thrift shops to avoid trashing clothing during the school year.
NU Thrift hopes to run its next shop in the Spring quarter,
follow them on Facebook
for updates.