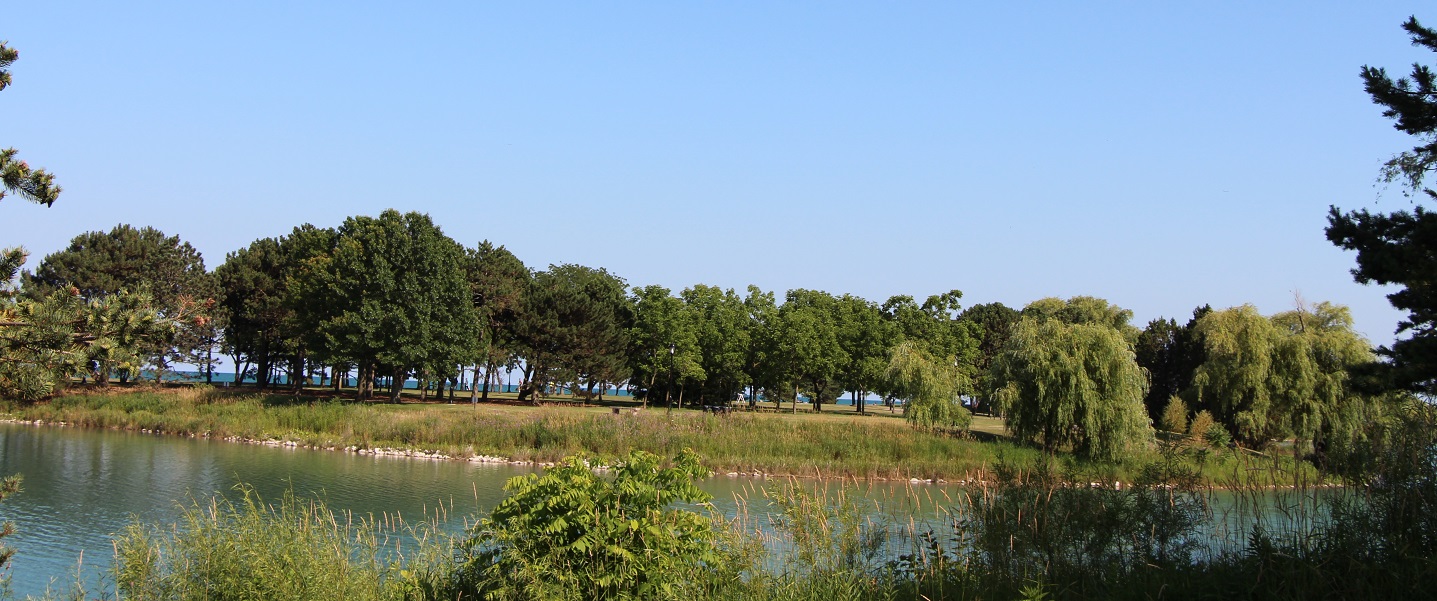 Northwestern's Trees Provide Environmental, Emotional Benefits
Walking through the Weber Arch on the Evanston campus, you are instantly enveloped in the tree canopy. "Northwestern's tree canopy is filled with, not only an amazing variety of trees, but some that predate the University itself," said Steve Camburn, Grounds Supervisor at Northwestern University. Of the more than 4,900 trees on campus, one of the oldest is a bur oak just east of 1835 Hinman. Facilities staff believe it to be around 250 years old. "I was fortunate to grow up with an old growth forest in my backyard," said Camburn. "So I experienced all of the natural beauty and unique qualities that are offered to us by older established trees." Beyond the beauty and sense of our landscape history, trees play an important role providing environmental, physical, and emotional benefits to our community.

Northwestern's robust tree canopy helps reduce environmental impact. The most notable way is through carbon sequestration, or the long-term removal of carbon dioxide from the atmosphere. The University's trees sequester tons of carbon each year, and older species are a significant contributor with their ability for greater sequestration. The ability for trees to act as a nature-based solution for carbon mitigation has been well documented. The National Wildlife Federation found that there are, "about 60–200 million spaces along our city streets where trees could be planted. This translates to the potential to absorb 33 million more tons of CO2 every year and saving $4 billion in energy costs." sustainNU is currently investigating the total impact of campus green spaces and how the tree canopy contributes to Northwestern's efforts to combat climate change.

Northwestern's trees offer a host of other ecological and environmental benefits, which directly contribute to the sustainability and livability of our campus. They offer habitat to migrating birds and local Chicagoland wildlife. They cool and regulate the temperature of our campus, mitigating the urban heat island effect while creating healthy, outdoor spaces through absorbing pollution and improving air quality. They reduce stormwater runoff and combat potential flooding, improving our campus's resilience to extreme storms and weather events. Plus, they provide shade coverage, decreasing building energy use and reducing aging and replacement frequency of roads and walkways.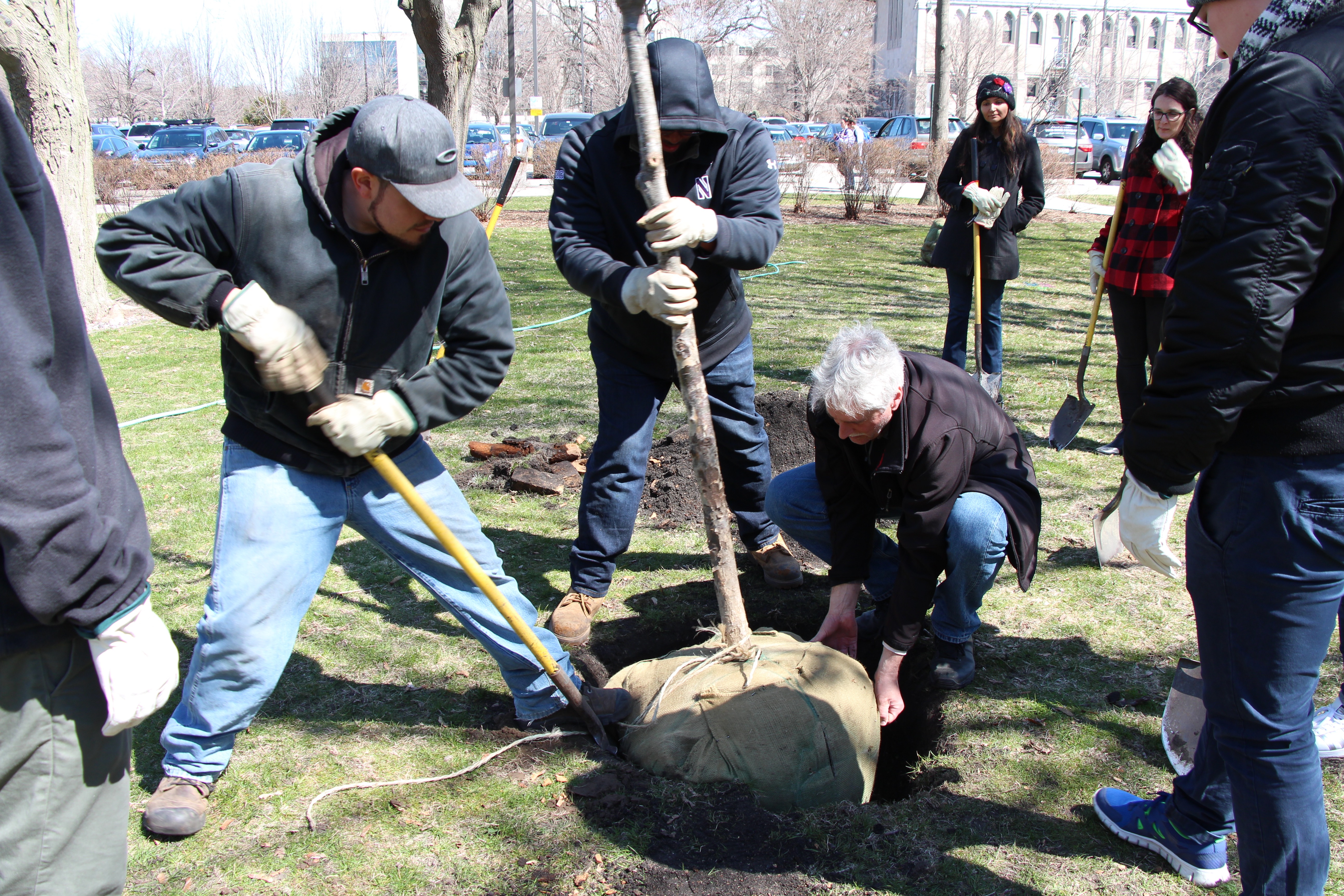 Northwestern's trees also lift our spirits and touch our souls. "The shade, scents, the physical beauty of each of the trees present at the University, offer an environment that has calming effect," said Camburn. Research has shown that even just looking at pictures of trees can improve recovery from stress within five minutes, lowering muscle tension and blood pressure. Forest bathing, or walking in forests, is on the rise in many cultures and communities as a way to treat symptoms of depression and mental health issues. Over and over, research finds that the presence of trees and green spaces improves physical, mental, and emotional wellbeing. Those living in tree-filled communities are healthier and have fewer cardio-metabolic conditions. Another benefit on campus—tree cover is linked to stronger student academic performance.

The dedicated Northwestern Grounds crew plays a vital role in maintaining, improving, and promoting the welfare of campus trees so that the canopy can thrive. In 2019, they planted 51 trees, replacing those that were removed due to storm damage or natural causes and adding new ones. "Being able to replace trees that are lost has a special meaning to me," said Nigel Chesters, Lead Groundskeeper, "I do love planting trees."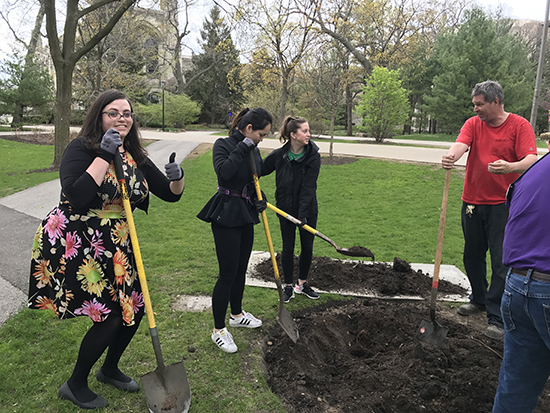 Each year, sustainNU works closely with the grounds crew and volunteers from the Northwestern community to plant trees in observance of Arbor Day. Getting students, staff, and faculty involved in tree stewardship and planting trees deepens their sense of connection to the campus landscape and serves as a cornerstone of Northwestern's Tree Campus USA accreditation activities. "Working closely with an arborist, Northwestern staff, and sustainNU to promote the welfare of the trees that I have such a deep appreciation for is one of the most satisfying parts of being the Supervisor of the Grounds department," said Camburn.

While we celebrated Arbor Day 2020 apart, we hope that you can reflect on the role trees have played in your Northwestern experience. From studying under their branches to soaking up their shade, we each have our own memories of the trees and natural landscape on campus. If you would like to share your memories with us, please post your story and tree image to social media with the hashtags #NorthwesternTrees or #NUEarthMonth2020. Happy Arbor Day and happy Earth Month!