SEED Presents PhilFest, an Annual Environmental Music Festival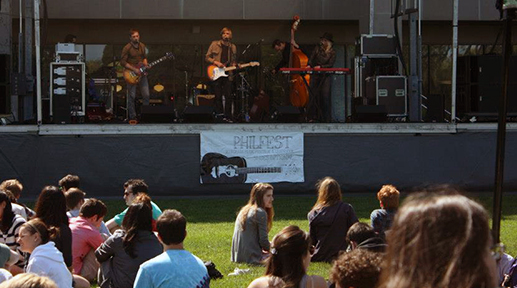 The 17th annual PhilFest, with free folk music, tie-dye activities, and a "shoes optional" policy, will take place this Memorial Day, May 28, on the Norris East Lawn. The concert and craft fair is hosted by Northwestern's largest student environmental activism group, Students for Ecological and Environmental Development (SEED) with support from other sustainability groups and A&O. Performers are yet to be announced, but a fun and chill atmosphere is always to be expected.
PhilFest started in 2001 in honor of SEED member Phil Semmer who passed away in a car accident in 2000. The festival was designed to celebrate the things Phil loved—bluegrass music being one of his passions. SEED partners with A&O Productions, a student organization that organizes concerts, entertainment, and speaker events throughout the year. Past headliners for PhilFest have included Sierra Hull, the Deadly Gentlemen, and Margaret Glaspy.
While the event is free, SEED takes donations for the Rocky Mountain Institute. This organization focuses on research, consulting, and advocacy aimed at increasing the adoption of renewable energy, and was Semmer's favorite nonprofit.
SEED PhilFest chair, Shoshi Reich, said, "PhilFest brings the community together to appreciate the environment and enjoy great music."
SEED has been an important voice on campus since the group was founded in 1968 to advocate for greater environmental protections. They were originally named Northwestern Students for a Better Environment, or NBSE. In 1970, they planned the first Earth Day "teach-in" event on a college campus. An online archive of this event is available here.
Throughout the year, SEED brings speakers to campus, sponsors events like the One Earth Film Festival, and partners with other student groups to increase environmental awareness. On May 14, SEED hosted NASA scientist Jay Famiglietti for a talk on climate change and water security. The group also supported Earth Day events during April.
PhilFest offers opportunities to celebrate, engage with students who are working on sustainability issues, take in some music, participate in craft activities, and enjoy the beauty of the lakefront environment.
Those interested in learning more or joining SEED can contact them at nuseed@gmail.com.
Back to top