A Comprehensive Look into Northwestern's Building Energy Use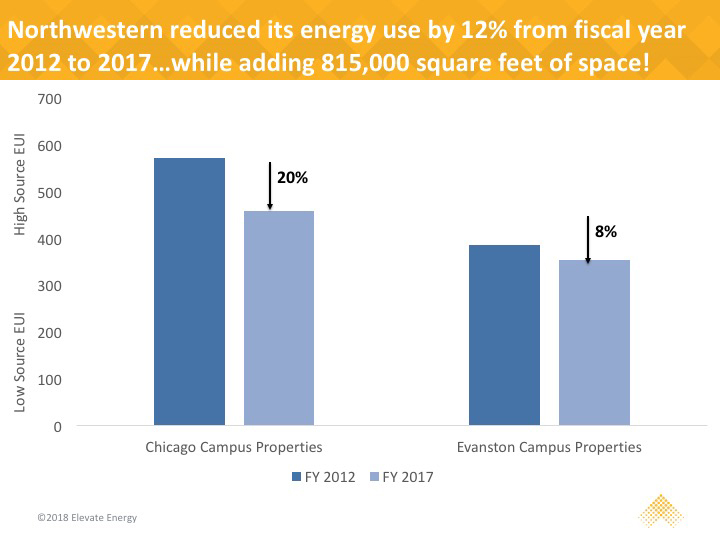 Most people do not think twice about the energy that keeps buildings alive and well, yet buildings consume nearly half of all the energy produced in the United States. At Northwestern, nearly 80 percent of the University's carbon emissions is attributable to the energy use in its buildings. Over the past year, sustainNU collaborated with Elevate Energy, a Chicago-based nonprofit with a mission of promoting smarter energy use for all, to audit the University's energy data from 2012 through 2017.

The project provided tools that will allow Facilities Management to more accurately monitor and manage its building portfolio energy use, identify energy efficiency opportunities, and evaluate progress in reducing energy consumption. Most importantly, the audit verified that Northwestern had reduced its energy use intensity (energy use per square foot) by 12% compared to the baseline year of 2012, even while adding 815,000 square feet of space.

As Elevate Energy's Project Manager Maria Quiñones said, "You've heard it before; you can't manage what you don't measure. Understanding how energy is used on campus will help Northwestern make smart energy decisions, ultimately eliminating the University's contribution to climate change and leading the way toward a greener, healthier, and more sustainable future."

The audit included a comprehensive inventory of all utility meters on campus (electricity, natural gas, steam, hot water, and chilled water) to verify each building's utility sources and to obtain whole-building energy use required to benchmark. This audit covered all 221 University-owned buildings on the Chicago and Evanston campuses, representing more than 14.5 million square feet of space. This is more than three times the square footage of Chicago's Willis Tower.

The project also included creating a new ENERGY STAR Portfolio Manager® account with normalized building demographics such as occupancy, plug loads, and hours of operation. The University collaborated with several internal and external constituents, including utility companies, to help collect required data.

After collecting, analyzing, and verifying the data from internal billing information, direct utility bills, and sub-metered utilities, the data was then uploaded to a new ENERGY STAR Portfolio Manager account.

The U.S. Environmental Protection Agency's ENERGY STAR Portfolio Manager provides a nationally recognized online tool that Building Managers can use to measure and track energy and water consumption, as well as greenhouse gas emissions. According to ENERGY STAR, hundreds of thousands of commercial buildings use Portfolio Manager to benchmark energy, water, and waste. These buildings include large healthcare organizations, major league sports arenas, college and university campuses, and government buildings.

Portfolio Manager provides the tools needed to compare energy use year to year for a building or an entire portfolio of buildings. Building managers can use this information to identify buildings that are performing better or worse than others (as compared to each other and on a national scale) and set priorities for investing in energy efficiency improvements. The tool also allows users to verify energy savings, earn ENERGY STAR certification (if eligible), participate in the Department of Energy's Better Buildings Challenge, and comply with local benchmarking ordinances. Both Evanston and Chicago have ordinances that require energy benchmarking for commercial properties.

Through Northwestern's energy data audit, it was possible to categorize buildings according to ENERGY STAR's building property types. More than 75 percent of the University buildings fell into the following ENERGY STAR categories: college/university (19 percent), office spaces (23 percent), residence halls (25 percent), and single-family homes (10 percent). The audited data will provide a better roadmap for navigating energy use information. It will also make it possible to pursue ENERGY STAR certification, a green building recognition, for almost 70 percent of Northwestern's eligible buildings. ENERGY STAR certification indicates that these buildings are performing better than at least 75 percent of similar buildings nationwide.

"Northwestern University's efforts have set them up for success," said Brendan Hall, Public Sector Program Manager for ENERGY STAR. "By completing this comprehensive audit and benchmarking in Portfolio Manager, Northwestern University can now target efficiency efforts where they are needed most and verify future savings."

With the energy data audit completed, the Facilities Management team can now use benchmarking data for all campus buildings to determine which buildings have the highest energy use intensity and begin implementing targeted energy efficiency projects to reduce consumption in these locations. This is the first step in implementing a comprehensive, informed energy management program that will help achieve Northwestern's greenhouse gas reduction and energy efficiency goals.
Back to top