Student Group Profile: GREEN House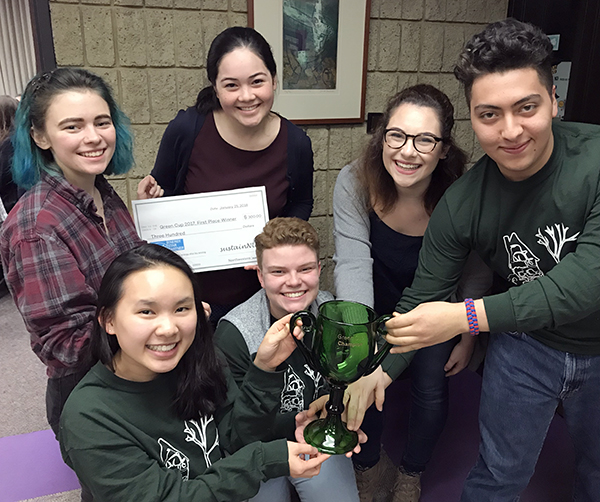 Terrence Stilson said he did not know what was coming when he was randomly assigned to a dorm called "GREEN House" at the beginning of his freshman year. Three years later, he is the GREEN House president.
"I just kind of fell in love with it," the Weinberg junior said. "It was just a welcoming community with a lot of really cool people who I got to know really well, and they made me want to come here the next year."
The Group Residence for Environmental Engagement at Northwestern, also known as GREEN House, is a special interest residential community tucked into Northwestern's fraternity quad. Each year it houses about 40 undergraduate students from a mix of schools and majors, brought together by a shared commitment to sustainable living and environmental awareness. Its mission focuses on three pillars—Examined Lifestyle, Education, and Service—that are integrated into residents' daily life. Not surprisingly, GREEN House has won Green Cup, the campus-wide competition to see which residences can conserve the most energy and water, more than once.
According to Stilson, what truly sets GREEN House apart from other campus residences is its focus on sustained philanthropy. Each year the residence chooses an environmentally oriented beneficiary organization to fundraise for and volunteer with.
"We try to focus on [our beneficiary] as our main objective every year, just helping out as much as possible with them and engaging our residents through philanthropy events," he said.
For the past two years, the GREEN House beneficiary organization has been Friends of the Forest Preserves, a nonprofit founded in 1998 and focused on protecting, expanding, and restoring the forest preserves of Cook County. So far this year residents have worked with the organization on removing invasive species and managing controlled burns in nearby preserves. These activities facilitate natural growth and restoration processes that have been impeded by human intervention.
The residents of GREEN House come from a variety of backgrounds and interests. Some, like Stilson, didn't know much about the community before they lived there, while others, like sophomore Tess Russell, knew it was exactly what they were looking for.
"I really wanted to live somewhere with an environmental theme," said Russel, GREEN House communications chair. "When I was looking at colleges…I knew I wanted to do that."  
At its core, GREEN House is about community, and the number one thing GREEN House residents told sustainNU about their living experience was the strength of the friendships and sense of belonging formed at the residence. First-year student Maggie Olson said the people she has met through GREEN House have been a defining feature of her Northwestern experience so far.
"I think someone once wrote about this dorm that it is the best-kept secret on campus, and that is so true," she said. "It is the best place to live…If I did not live here, I do not think I would love [Northwestern] so much."
Going forward, GREEN House will continue to focus on learning and living with eco-friendly practices, as well as on volunteering with its beneficiary organization. Living in GREEN House is a great option for students looking to deepen their awareness of and commitment to environmental issues.
"It's a way to bring people together around living sustainably," Olson said of the house. "Once you graduate or move off campus, then you can continue the practices you started here for the rest of your life."
Of course, living there is not the only way to care for the environment. The rest of the campus can look to GREEN House for inspiration. There are easy things everyone on campus can do—turning off lights, taking shorter showers, and recycling—to live a little greener.
Back to top