Local Utilities Provide Incentives for Northwestern Energy Efficiency Improvements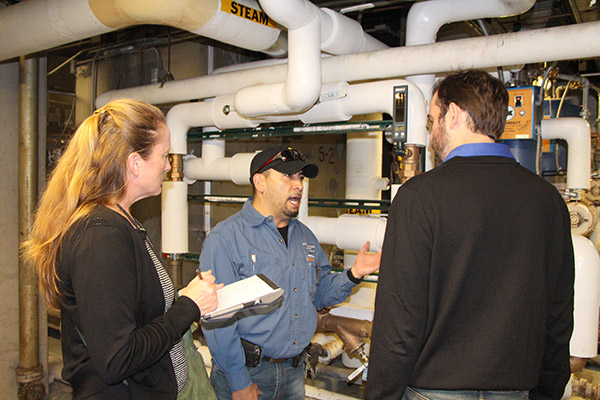 Northwestern's Department of Facilities Management operates and maintains more than 220 buildings in the City of Evanston and Chicago. Together these buildings consume 185 kBtu per square foot in electricity and natural gas. Northwestern's partnerships with the local utilities are essential to managing and reducing the energy use intensity in campus buildings.
Commonwealth Edison Company, also known as ComEd, is one of the largest electric utilities in the nation, responsible for delivering power to 3.8 million homes and businesses across Northern Illinois. ComEd transports all of Northwestern's electricity through its network of 90,000 miles of power lines.
Since the Illinois Energy Efficiency Portfolio Standard was enacted in 2007, ComEd began offering programs and incentives to support various energy efficiency projects. Northwestern has participated in several of these programs. The programs have offset the cost of auditing buildings to identify energy conservation opportunities and have helped to cover a portion of the costs of energy efficiency upgrades. For example, incentives have supported lighting upgrades, system replacements, and energy efficient features of new construction projects. In total, Northwestern has been awarded over $1.3 million to help offset the cost of energy efficiency improvements.
Northwestern's natural gas utilities (Peoples Gas on the Chicago campus and Nicor Gas on the Evanston campus) have also implemented rebate programs for energy conservation measures. Natural gas is used on campus to generate steam and hot water required to support the campus heating and cooling systems. It is also used in kitchens for cooking. Northwestern has worked with both Nicor and Peoples Gas to implement energy efficiency measures and has received over $630,000 in rebates for energy efficiency projects that reduced the campus natural gas usage.
These energy efficiency programs have contributed to a strong return on investment for Northwestern's energy efficiency projects. The cost savings allowed the University to allocate resources to other campus maintenance and improvement efforts.
Local utilities offer rebates and other energy efficiency incentives for residential properties as well as businesses and institutions like Northwestern. For example, ComEd offers rebates on energy efficient products including ENERGY STAR® certified appliances, efficient heating and cooling systems, smart thermostats, and Light-Emitting Diode (LED) bulbs. Incentives from Nicor Gas and Peoples Gas include rebates on furnaces and boilers. Programs offered jointly by ComEd and the natural gas utilities offer free home energy assessments and rebates for home improvement projects such as insulation and air sealing.
Energy efficiency upgrades can help homeowners and institutions save money while also reducing greenhouse gas emissions. At Northwestern, natural gas and electricity use in buildings account for roughly three-quarters of the University's greenhouse gas emissions. Incentives from the local utilities make it easier for the University to implement energy-saving measures needed to reach the institution's carbon emission reduction goals while minimizing the cost of the necessary upgrades.
Back to top