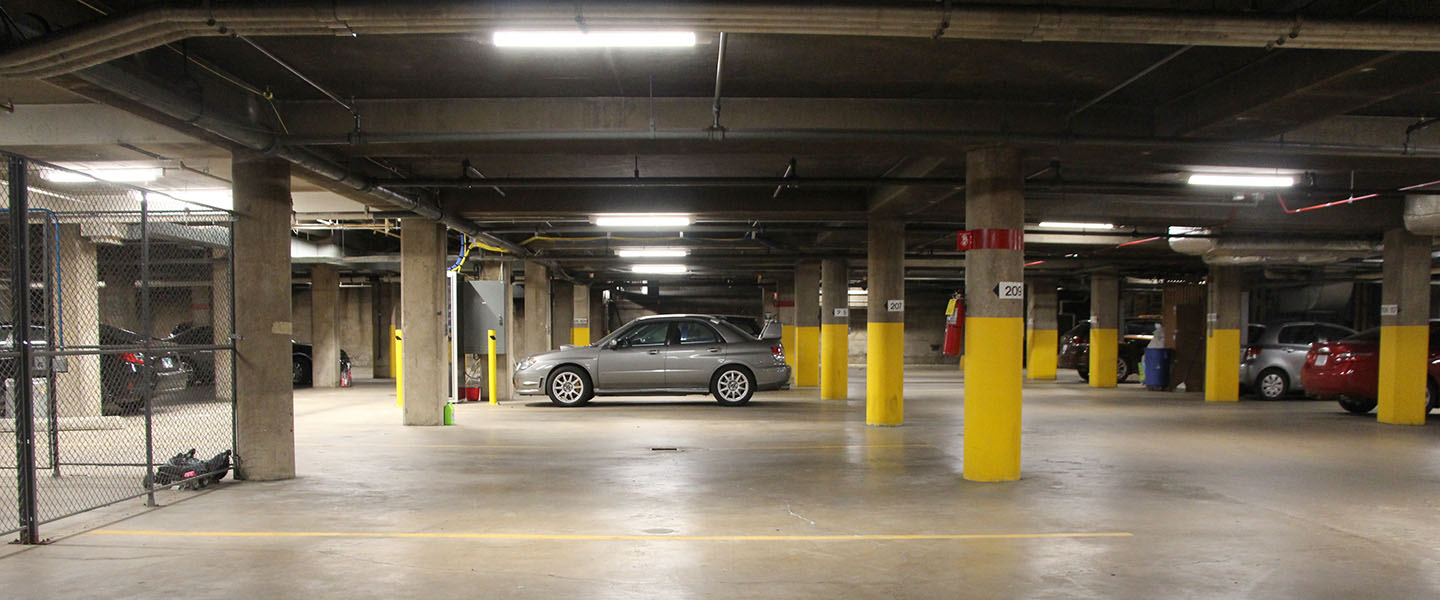 Lighting Upgrades Make Parking Garages More Efficient
Visitors to several parking garages on Northwestern's Evanston campus might have noticed things looking a little brighter this fall. Lighting upgrades in four garages will improve light levels and save energy. New, modern looking LED light fixtures have been installed in the ground level of the Lakeside Parking Structure, and the garage spaces at the McManus Center, 800 Elgin, and 1201 Davis Street.
The new light fixtures use at least 60 percent less energy than the old fixtures. The upgrades are expected to reduce electricity use by 444,419 kWh annually and save close to $40,000 in electricity costs. These projects will cut annual greenhouse gas emissions equal to the amount generated by 70 passenger vehicles each year.
The new LED lighting system also provides control of the light levels through dimming and occupancy sensors. When areas are unoccupied, the fixtures dim to use half as much energy as they do at full power. Motion sensors ensure that occupants have appropriate levels by turning up lighting levels when cars or people are present.
In addition to energy savings, there are significant cost savings associated with these upgrades. The new light fixtures have an expected life-span of more than seven years, which significantly reduces the maintenance costs associated with changing burned out lamps. The ComEd Energy Efficiency Program also provided rebates for eligible projects, which improves the return on investment for these projects.
These garage upgrades are not the only lighting upgrades that have been completed this year. Facilities Management also upgraded exterior lighting on campus from high-pressure sodium fixtures to LED lighting with dimming controls. That project will save 600,000 kWh and $50,000 in electricity costs annually. It will cut greenhouse gas emissions equal to the emissions from 100 passenger vehicles driven for one year.
In addition to energy savings, this project and other energy conservation projects have reduced the University's electrical peak demand by one megawatt, enough to meet the demand of at least 750 average houses.