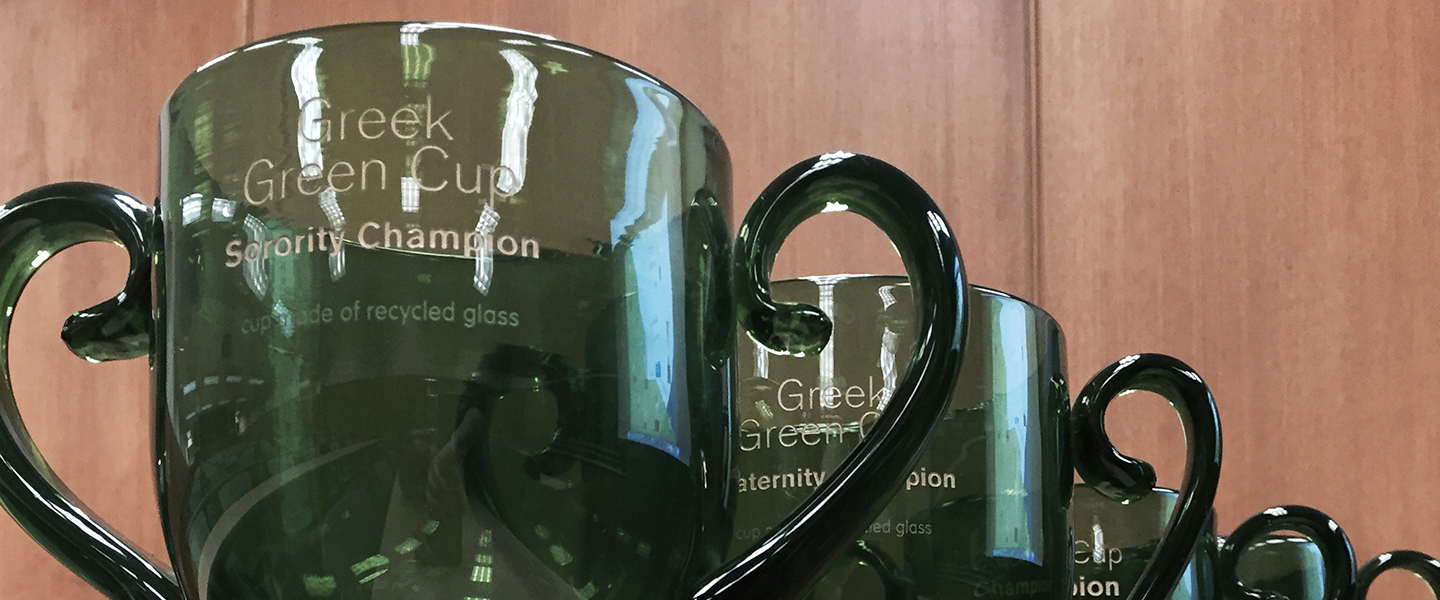 Students Reduce Energy and Water Use During Green Cup
This year's annual Green Cup competition came to a close this month with the Wildcats saving big. Students saved a total of 34,536 cubic feet of water (equal to almost half the volume of an Olympic-sized swimming pool) and 167,972 kWh of electricity (more than enough to power 13 homes for a year.)
Green Cup is a month-long competition that challenges students living in campus residence halls, residential colleges, and Greek houses to reduce energy and water use. The event is a student driven initiative with Students for Ecological & Environmental Development (SEED) and Eco Reps taking the lead. The first Green Cup was held in 2006, when students approached Facilities Management with the idea.
The goal of Green Cup is to encourage behavior change and show that small, everyday choices – like turning off lights when you leave a room – can have a big impact on energy use. Residences earn points by reducing their energy and water usage per person from an established baseline, and by participating in special events. Green Cup trophies are awarded to winners in four categories: residences with a dining hall, residences without dining, fraternities, and sororities.
This year the winning residences were Elder Hall, 2303 Sheridan (GREEN House & CCS), Sigma Phi Epsilon, and Pi Beta Phi.
During Green Cup, students earned points for their residences by participating in an Energy and Water Efficiency Treasure Hunt. The activity guided students in a search for opportunities to improve energy and water consumption in their residences. It was modeled after ENERGY STAR's Treasure Hunt Guide and the Battle of the Buildings competition.
Students who participated in the Energy and Water Efficiency Treasure Hunt were able to locate more than 25 areas for improvement on campus, including leaking faucets, areas with large temperature fluctuations, and opportunities to upgrade to ENERGY STAR rated appliances. The input provided will help Student Affairs, in partnership with sustainNU and Facilities Management, take action to make repairs and complete energy efficiency upgrades where needed.
Saving water and electricity on campus through everyday actions is the first step in living a more sustainable lifestyle. The sustainable habits established during Green Cup can be maintained throughout the year to lessen the University's environmental impact.
Early in winter quarter, awards will be presented at the Green Cup closing ceremony. Follow the Green Cup Facebook page for more information.
Here are the Green Cup winners in each category.
Residence halls with dining service:
Elder Residential Community
Foster-Walker Complex
1835 Hinman Avenue
Residence halls without dining service:
2303 Sheridan (College of Cultural and Community Studies and GREEN House)
Bobb Hall
1856 Orrington
Fraternities:
Sigma Phi Epsilon
Lambda Chi
Delta Chi
Sororities:
Pi Beta Phi
Chi Omega
Delta Zeta