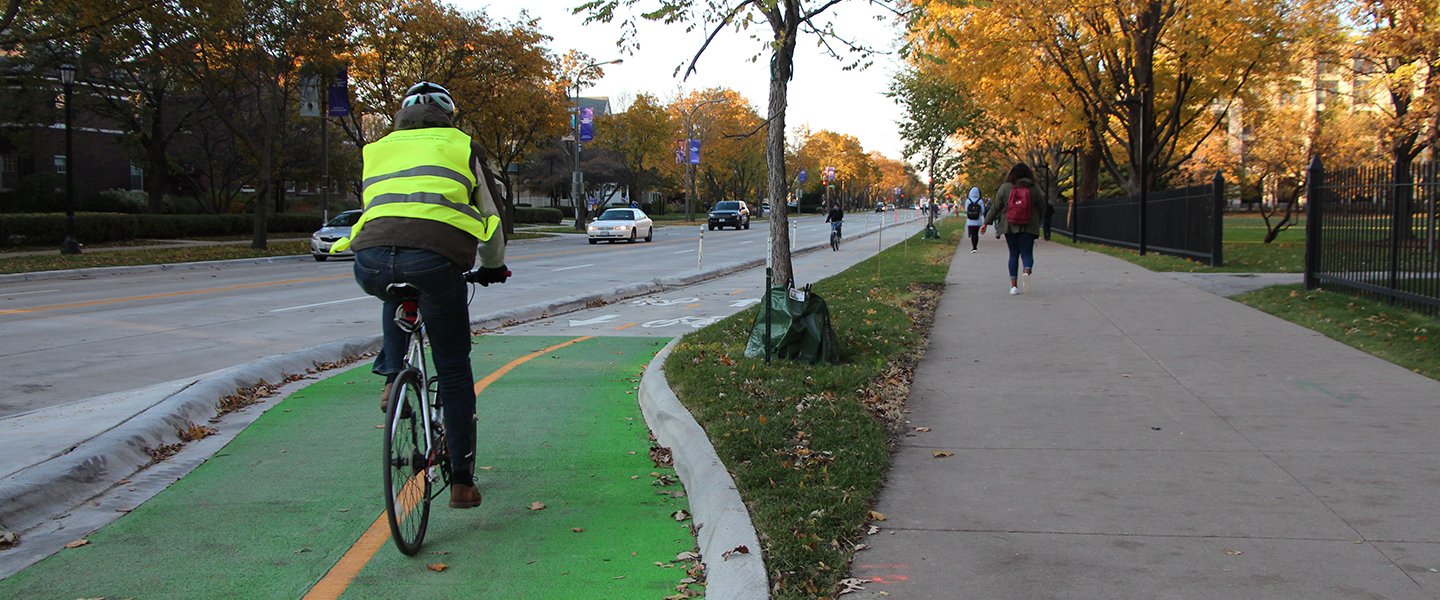 Sustainable Transportation Moves Ahead
Northwestern is moving forward in increasing access to environmentally friendly modes of travel and becoming a leader in sustainable transportation. Recent developments include the completion of a new protected bike lane along Sheridan Road and a tour that brought city transportation officials from across the country to the Evanston campus. 
Northwestern Hosts NACTO Walk-Shop
This year, the National Association of City Transportation Officials (NACTO) conference was held in Chicago at the beginning of November. Conference goers traveled to Evanston on their last day in town to tour the transportation highlights of the Evanston campus with Sustainability Director Kathia Benitez. Tour attendees saw features including the electric vehicle charging stations in the North and South garages, the all-electric service vehicles used to transport Facilities Management staff on campus, and the Divvy stations located on campus. The event was an opportunity to share Northwestern's sustainable transportation efforts with city officials from throughout the country.
Two-Way Bike Lane on Sheridan Road
A new two-way protected bike lane on Sheridan Road running adjacent to campus was completed at the end of October. The bike lane runs from Chicago Avenue to Lincoln Avenue in Evanston. This lane makes it easier for cyclists to travel between the northern and southern ends of campus swiftly without having to weave through the pedestrians on the Sheridan Road sidewalk.
Please use caution when riding in, entering, or exiting the bike lane. Always use a helmet and equip your bike with both headlights and taillights. When crossing intersections within the bike lane, be sure to remain in the designated bright green areas. When exiting the lane, use hand signals to alert cars and pedestrians alike to your movements. Keep in mind that it is also an option to dismount your bike and walk it across a street in a pedestrian crosswalk. More information about this project can be found on the City of Evanston's website.