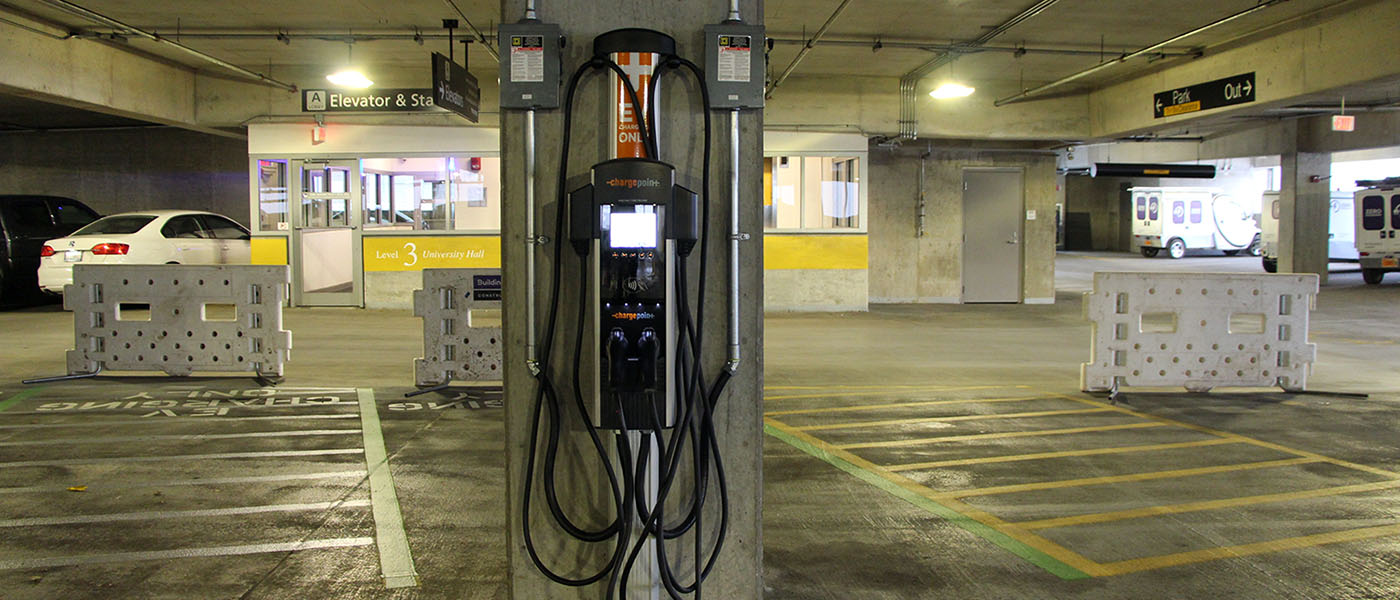 Northwestern Upgrades Electric Vehicle Charging Infrastructure
At the end of November, the electric vehicle (EV) charging stations on the Evanston campus will be getting an upgrade. The existing charging stations will be replaced with new ChargePoint CT4023 charging stations, and the number of stations in each garage will be doubled. Once the installation is complete, it will be possible for eight electric vehicles to be charged at once in each garage. Along with the new stations, Northwestern will roll out a charging policy intended to ensure that all electric vehicle drivers have access to charging stations when they need them.
The changes will facilitate the use of electric vehicles, which are more environmentally friendly than conventional vehicles.
Installation will start on Monday, November 20, in the North Garage and on Wednesday, November 29, in the South Garage. Work is expected to be completed by Friday, December 8. During installation, the electric vehicle charging stations will be inaccessible to the campus community. While work is underway, EV drivers can use the ChargePoint map to locate alternate charging stations in and around Evanston.
A new charging policy will go into place along with the new stations. The policy is designed to encourage drivers to free up charging stations for others once they have charged their vehicles. Under the new policy, the charging stations will offer three hours of free charging. Additional hours will cost $2 per hour. See the new Electric Vehicle Charging Policy for more details.
There will be three easy ways to use the new charging stations.
Call the 800 number located on the cap of the ChargePoint station and pay over the phone with a credit card. 
Sign for a free membership with the ChargePoint network and receive a ChargePoint card. After activating the card, simply tap the machine with the card to check in at any ChargePoint charger and begin charging. 
Download the ChargePoint mobile application. From the mobile application you can enter your payment information and monitor your vehicle's interaction with the charger remotely. 
Upgrading the electric vehicle charging stations on campus helps keep Northwestern up to date with top-of-the-line charging infrastructure. The project supports the University's sustainability goals by making it easier for Northwestern commuters to use electric vehicles. Shifting to electric vehicles reduces greenhouse gas emissions associated with travel to and from campus. The new stations also make it easier to track energy used for vehicle charging – data that can be used to measure progress toward greenhouse gas emission reduction goals.
For questions about this project, please contact audrey.steinbach@northwestern.edu or email sustainability@northwestern.edu.