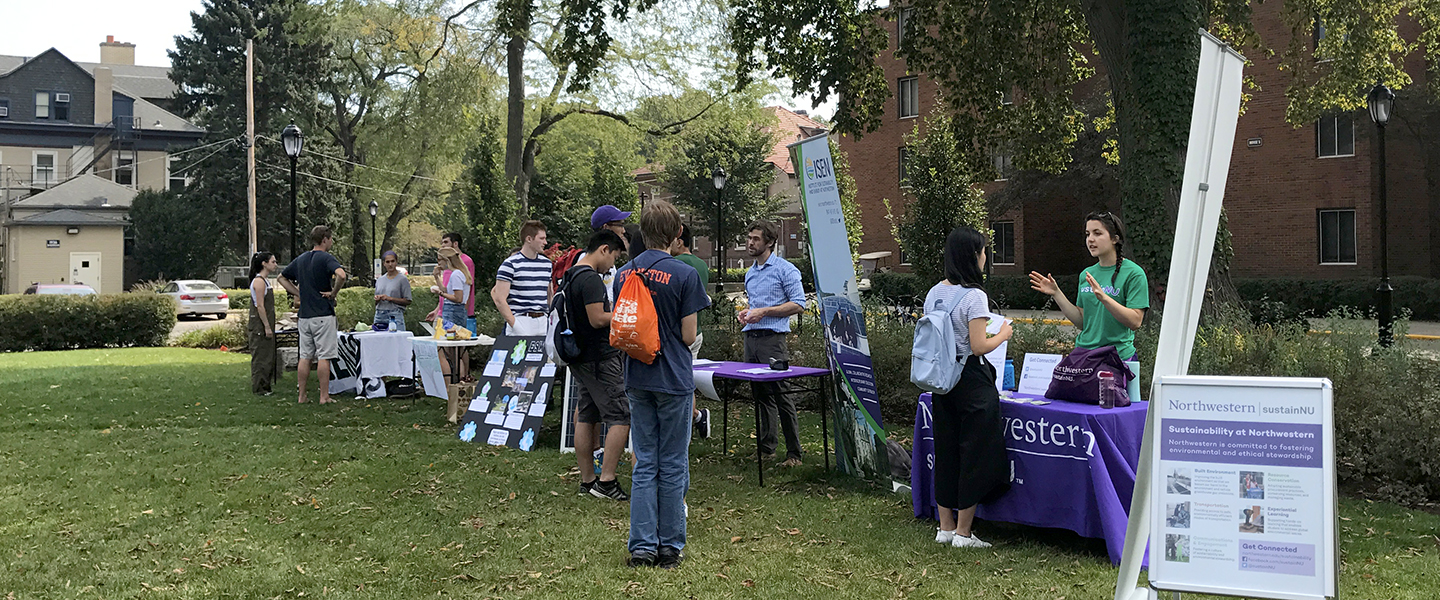 Student Organizations Promoting Sustainability
Student organizations play important roles in campus life at Northwestern, and several groups are focused on the environment and sustainability on campus and beyond. Student groups are working on a broad range of sustainability projects, including growing organic produce, building a solar-powered house, educating community members about environmental issues, and publishing an online sustainability-focused magazine. There are opportunities for students from all areas of study to get involved. Find more sustainability-focused groups on the sustainNU website, or connect with group members and others interested in sustainability at the fall Mixed Greens student mixer.
Associated Student Government Sustainability Committee (ASG SusCom)
This group has three major areas of focus: sustainable advertising, resource management, and academics. The sustainable advertising team works to reduce ground flyering by student groups, while the resource management group deals more widely with energy usage and waste generated on our Evanston campus. Finally, the academics team works to incorporate sustainability themes into academic course offerings for undergraduates. Undergraduate students of all academic backgrounds are encouraged to get involved, and students can focus on one or many initiatives. Email asg-sustainability@u.northwestern.edu with questions.
Eco Reps
Eco Reps is an environmental student group at Northwestern focused on advancing sustainable living in campus residences, Greek houses and off-campus spaces. They plan events, activities, and campaigns throughout the year to raise awareness about eco-friendly living and to increase sustainable practices. Throughout the year, their biggest events and initiatives include Green Cup and Take-It-Or-Leave-It. This year, they plan to collaborate with groups on campus to make events such as residential munchies and student-run shows a little greener. They also engage with the greater Evanston and Chicago communities whenever possible to connect students with advocacy and volunteer opportunities in the area. Anyone interested in sustainable living is encouraged to get involved. Interested students should email nuecoreps@gmail.com, and follow @nuecoreps on Instagram and Facebook for up-to-date information on events and initiatives.
Engineers for a Sustainable World (ESW)
The Northwestern chapter of Engineers for a Sustainable World aims to empower students to apply the principles of sustainability to their present and future work through action-based engineering projects and community education. Students from all academic backgrounds with a passion for sustainability are welcome to apply – there are many roles within the organization that do not require engineering or technical skills. Current projects include: Urban Agriculture, a project focused on developing indoor agricultural systems that optimize space and resources; NU Beekeeping Society (NUBS), a project working to bring beehives to campus; Pura Playa, an effort to reduce plastic water bottles on campus and improve water quality; and Project Ouidah, a new effort to improve infrastructure in Nigeria. To learn more, email contact.eswnu@gmail.com.
GREEN House
GREEN House is a special interest Residential Community located on the Fraternity Quad. Each year, 40 residents live in the house and work together to promote sustainable living. Students from across all majors and backgrounds are welcome to live in the house or join the community. Applications to live in the house are submitted in March for the following school year. For more information, email nugreenhouse@gmail.com.
In Our Nature
In Our Nature is a student-run online magazine focusing on environmental and science reporting. They publish articles and multimedia pieces, and students with any level of experience are encouraged to get involved. Interested students should email inournaturemag@gmail.com or message them on Facebook for more information.
NU Solar
NUsolar provides hands-on experience producing energy efficient vehicles. Anyone who is interested in sustainable energy or cars can join this team, regardless of experience. This year the group is working on completing construction of their seventh car, Seven, and have started designs for their eighth car, SC8. New members will be given their projects to work on, and experienced members will be there to help them with any questions. Students can work on one of two engineering teams, electrical or mechanical, or one of many business teams, including publicity, budgeting, and company relations. Email project-manager@nusolar.org for more information.
SEED (Northwestern Students for Ecological and Environmental Development)
SEED focuses on campus engagement. This student group plans community-wide events, launch educational campaigns, and provide opportunities for community service. Events they are involved with include Philfest, a sustainable music festival, and Green Cup, a month-long competition to reduce electricity and water consumption. Interested students should connect with SEED on Facebook.
Wild Roots
Wild Roots garden maintains an outdoor garden on the South Norris Lawn, aiming to teach students about sustainable gardening. Join them for open garden work on Sundays from 2 pm to 4 pm and help weed, water and weigh the fall harvest. Email nuwildroots@gmail.com with questions or connect on Facebook.