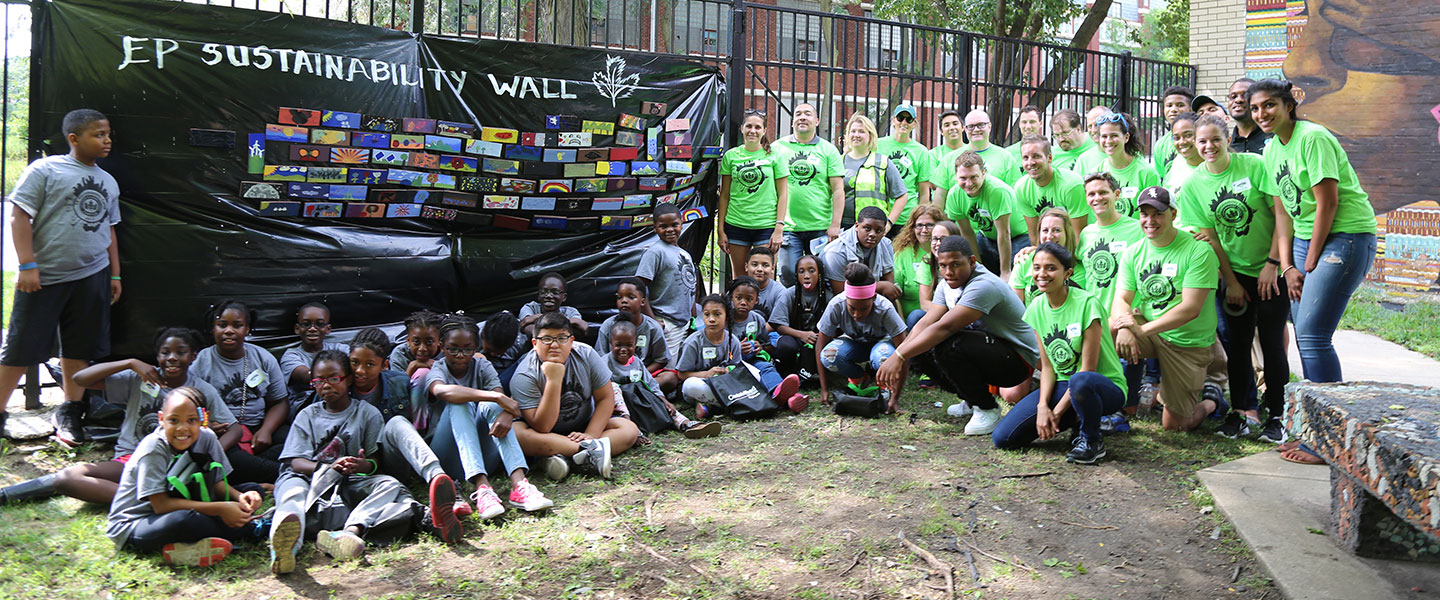 Chicago Youth Learn about Sustainability with Support from sustainNU
Nearly 30 youth spent a sunny August day learning about sustainability, thanks in part to a donation by sustainNU.
sustainNU made a contribution to help cover the cost of the first annual U.S. Green Building Council - Illinois Emerging Professionals Sustainability Day Camp on August 5 at Elliott Donnelly Youth Center in Chicago's Bronzeville neighborhood. For free, middle schoolers in attendance rotated through hands-on activities teaching sustainability, including recycling, storm water management, urban gardening, energy efficiency and art.
sustainNU jumped at the chance to help communities integrate sustainability into their daily lives, said Kathia Benitez, director of sustainability.
"sustainNU is proud to support a local event that values social justice and promotes sustainability education and awareness," Benitez said. "As a member of USGBC and as a University working toward creating a greener, healthier and more sustainable future, we saw this as a great opportunity that aligned with our mission."
A major goal of the day was to get kids excited about science, sustainability, and technology, and to incorporate good environmental practices into their lives. Young professionals from across Chicago's sustainability community came together to design and implement the activities, some of which included take-home materials.
For the urban gardening activity, for example, campers created a seed "package" with seeds and bio-degradable filter paper to plant at home. Some were so eager they planted their seeds in the youth center's playground area.
The energy efficiency activity included a demonstration of the difference in energy use of an incandescent light bulb versus an energy efficient LED light bulb. Campers were given highly-efficient LED bulbs for their homes, along with a notebook and t-shirt.
"The donation from Northwestern guaranteed that we wouldn't go over budget and helped us to buy some last-minute items on the day of the event," said Natalie Hicks, co-chair of the Emerging Professionals committee. "Because of their donation, we were able to purchase nicer, double sided t-shirts for the kids, and have more than enough snacks."
Hicks said the sustainNU contribution also helped cover supplies for an art activity, perhaps the most popular station. Campers painted sustainability inspired images on foam bricks. This ranged from flowers to Lake Michigan and bees and wildlife. The bricks were then fastened to a canvas hanging from a fence enclosing the playground to form the "Sustainability Wall," which remains at the youth center.
"We were so happy to be able to leave something on the fence for the youth center kids and neighborhood to enjoy," Hicks said. "Everyone went home full, happy, and having learned something new, which is exactly what we wanted."
The U.S. Green Building Council Illinois Chapter is a member-driven, non-profit organization that advances buildings and communities that are sustainable, prosperous and healthy through its strategic plan, the Epic Challenge. A committee within the organization, the Emerging Professionals is a group of young professionals dedicated to supporting the Epic Challenge through education and community outreach.