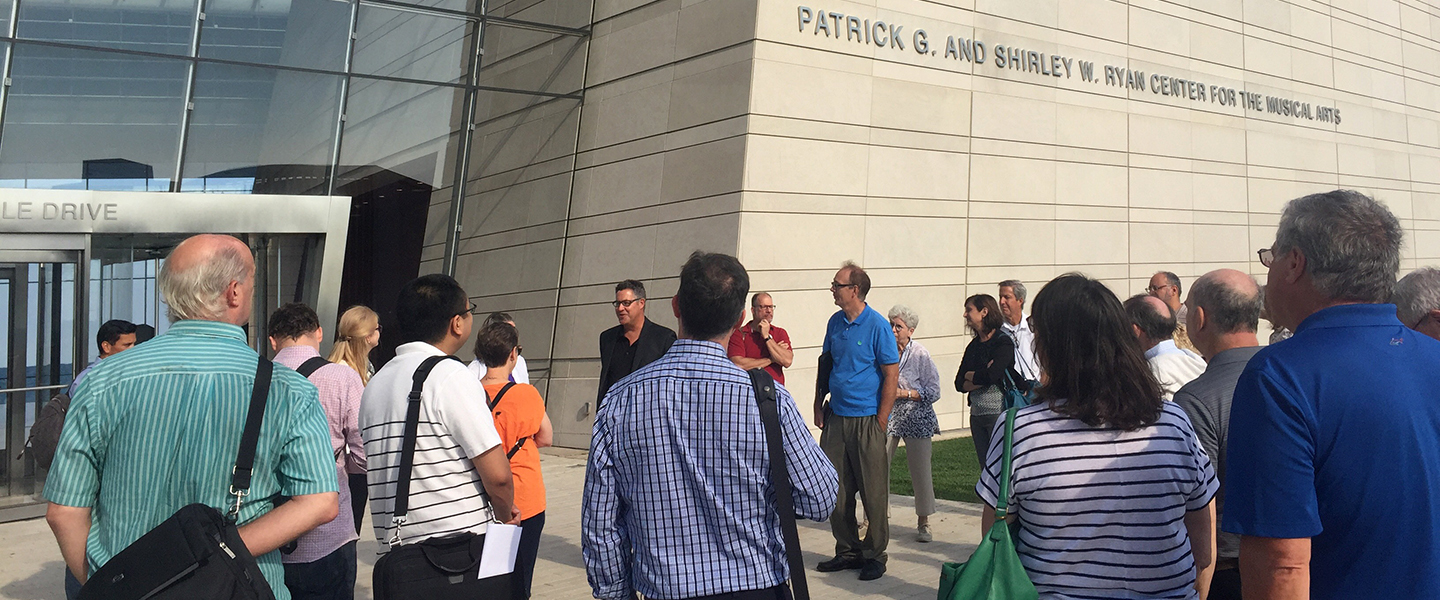 Creating Partnerships by Showcasing Northwestern's Buildings
 On August 15, the American Institute of Architects Chicago (AIA Chicago) brought together more than 30 architects and construction professionals to tour Ryan Center for Musical Arts and the Kellogg Global Hub. The event showcased two of Northwestern's newest green buildings and offered tour participants an opportunity to learn about more sustainable building design and construction.
The Ryan Center is the home of the Henry and Leigh Bienen School of Music. The design incorporates sustainability while meeting the unique needs of the music school. In 2015, the building received Leadership in Energy and Environmental Design (LEED) Gold certification from the ecology-oriented building certification program run by the U.S. Green Building Council (USGBC). Tour participants explored the building and learned about features including acoustic design elements in classrooms, and a heating, air conditioning and ventilation (HVAC) system intended to be silent, control heat gain, and save energy.
Next, the group toured The Global Hub, the new home of the Kellogg School of Management. The Toronto-based architectural firm KPMB Architects' vision for the Global Hub was to offer a world-class collaborative learning space that is also environmentally friendly. Kevin Thomas of KPMB Architects led the tour of the building, highlighting features including the open concept design, an innovative fire safety system, and the floating collaboration space. He also pointed out green features including energy efficient LED lighting and the use of a geothermal system for heating and cooling.
Joan Pomaranc, program director of AIA Chicago, said the event was a valuable experience for participants.
"AIA Chicago members had a singular opportunity to be shown these two buildings by the architects who designed them and to hear how the designs evolved in response to various challenges the architects faced," She said. "We also learned some of the technical details of the construction. And having the university architects accompany us and add their comments was a treat since they are both the 'clients' and fellow design professionals."
The tour offered an example of how Northwestern uses the campus environment as a learning tool and seeks to extend educational opportunities to the broader community, setting an example for best practices in sustainable building design, construction, and maintenance.