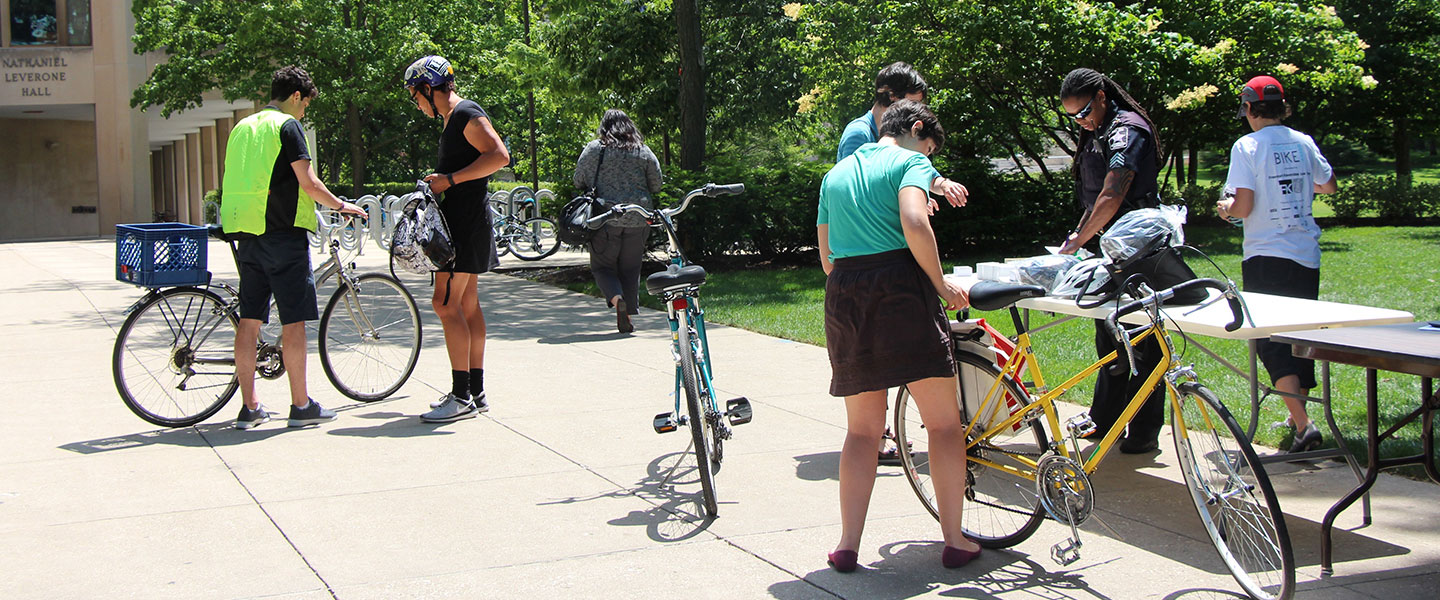 Northwestern Wins the Bike Commuter Challenge
For the second year running, Northwestern won its category in the Bike Commuter Challenge, an event designed to celebrate and promote cycling as a healthy and environmentally friendly mode of transportation. Northwestern cyclists logged more miles than any other participating team, riding nearly 8,300 miles during the friendly two-week competition among companies and organizations.
The Active Transportation Alliance runs the Bike Commuter Challenge each June, and this year the event ran from June 16 to 30. Participating teams included more than 300 Chicago-area businesses, non-profits, and public agencies, each competing with other groups of a similar size in the same sector.
Northwestern beat out the University of Illinois at Chicago to win the category for educational institutions with 5,000 or more employees, while Loyola University Chicago won the category for educational institutions with 2,500 to 4,999 employees. Northwestern dominated the Challenge in all categories when it came to racking up points and miles during the challenge.
Feinberg staff member Mike Greco participated in the challenge for the first time this year. He said he liked using the Bike Commuter Challenge website to see how the Northwestern team was doing in the event.
"It gave me a sense of competition and wanting to ride my bike even more," he said. "It's fun to see how far you and your coworkers ride compared with other companies and employees."
Greco said his favorite things about commuting by bike are "avoiding traffic and enjoying the weather. Not to mention, it is good exercise and helps to get started with your day."
The sustainNU program held several events to help the Northwestern Community get out biking. Bike pit stop events offered riders bike safety checks and provided complimentary essential services like inflating tires, greasing chains, and checking for any larger repairs that might be needed. Bike mechanics from Wheel & Sprocket serviced riders on the Evanston campus, while Village Cycle staff supported the Chicago event.
To help those who don't have their own bikes, Northwestern teamed up with the Divvy bike sharing program to offer free test rides. It was an opportunity to try out Divvy, which offers its members access to bikes docked at stations in Evanston, Oak Park, and throughout Chicago. Northwestern students, faculty, and staff are eligible for discounts on annual Divvy memberships through the Wildcard Advantage Partners program.