Saving Energy in Labs with Better Ventilation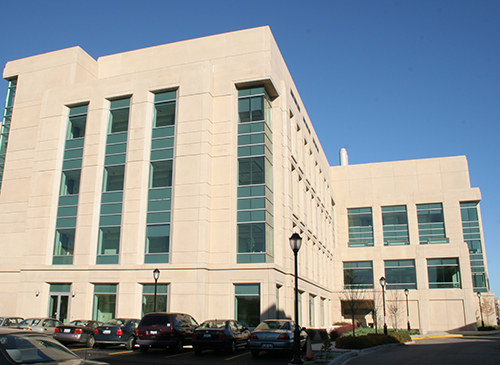 The laboratories on Northwestern's campus turn out cutting edge research, and they also use a lot of energy. Labs are particularly energy hungry spaces due to the need to run energy intensive equipment and provide adequate ventilation. Recently, the Facilities Management team worked with the Office for Research Safety to make upgrades to the ventilation systems that will maintain healthy air quality while cutting energy consumption in labs.
Facilities Management has now installed Aircuity in a total of eight buildings on campus. This system monitors air quality in lab spaces and adjusts ventilation levels as needed. The Arthur and Gladys Pancoe Life Sciences Building was retrofitted with Aircuity this past fall, and the energy savings have been dramatic. The Pancoe installation will cut energy costs by more than $117,000 per year, resulting in a payback time of just over three years.
Mike Slimp, chief engineer in Facilities Management, said the installation went smoothly, and there are several benefits to the system.
"The project was installed in a fully occupied building with minimum interruption to the occupants," he said. "The Aircuity System not only reduces energy use but provides a safer lab environment. The historical data for lab air quality is stored on Aircuity's servers and is available to both lab users and the Office of Research Safety."
The Aircuity system saves energy by ensuring that ventilation systems run only as much as needed to maintain healthy air quality. Before the system was installed in Pancoe, the ventilation system there was running at constant a rate of nine air changes per hour. After the installation, Facilities Management and the Office for Research Safety researched and tested options for fine-tuning the system. They were able to safely set the system to run at a rate of four air changes per hour during occupied times, and two air changes per hour when labs are vacant.
Motion detectors mounted in the ceilings automatically adjust the ventilation rate based on occupancy, and the Aircuity system constantly monitors air quality to ensure adequate ventilation as needed. Ongoing monitoring showed that adjusting the ventilation rate during unoccupied times performed as anticipated, suggesting that a similar strategy could be applied in other spaces in the future.
Going forward, Northwestern is exploring opportunities to install the Aircuity system in other lab spaces as a part of efforts to conserve energy while maintaining healthy, safe, and comfortable labs. The energy savings will cut costs and reduce greenhouse gas emissions associated with energy consumed on campus.