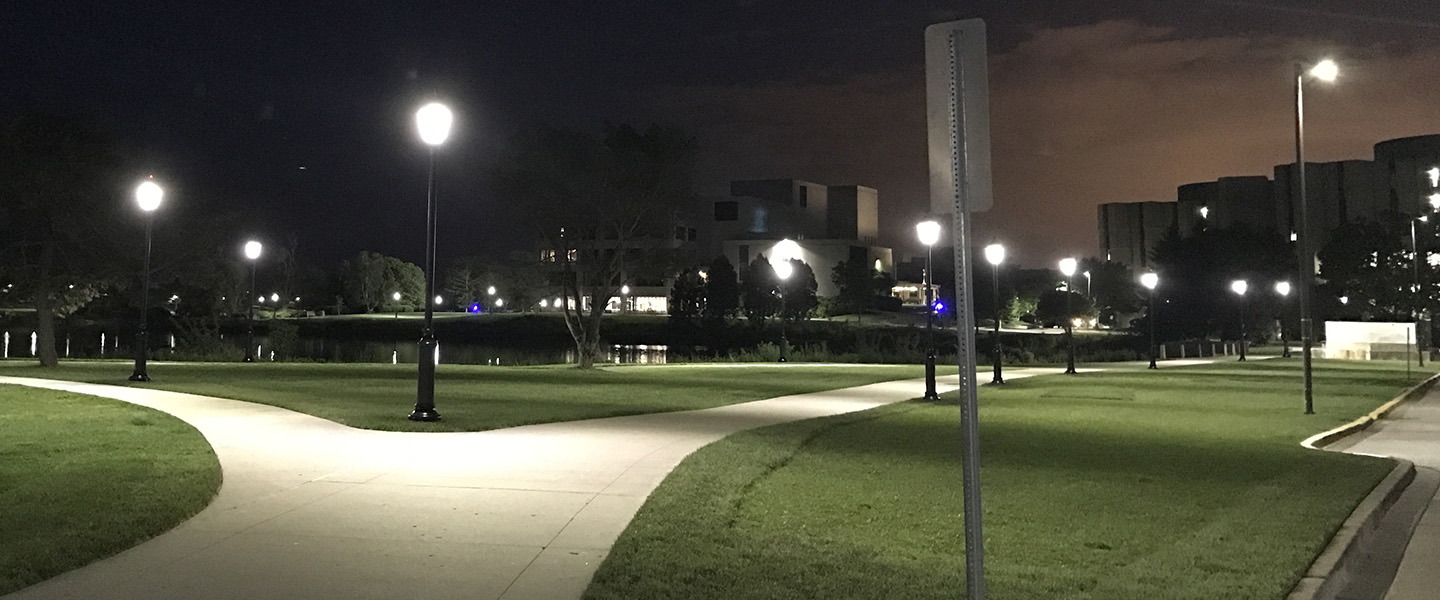 Lighting Campus More Efficiently
As an electrician, Scott Hayworth is not scared of the dark, but he is pretty worried about the light. More specifically, he is concerned about things like light efficiency and proper lighting around Northwestern. As the chief electrical engineer for the Evanston campus, it is Hayworth's job to make sure the grounds are well-lit and that the system is as streamlined as possible.

Until recently, this was not easy. Lights around campus used mostly metal halide bulbs, meaning they had limited lifetimes, left many areas poorly lit, and had to be checked manually by Hayworth's 15-person team on a regular basis.

"We were paying an electrician to drive around, looking for burned bulbs to change out," said Hayworth. "That is not what they want to be doing."

In 2012, Hayworth began working toward something better. He started researching lighting systems that would be more efficient and would light up campus properly while also reducing the tedious maintenance for his team. He wanted to work with LED bulbs, which use about 45 percent less energy than metal halide, last five times longer and can light up more area. Unfortunately, the LED technology was not yet ready for exterior lighting, and automation systems did not offer the level of control Hayworth was looking for.

However, within a few years, technology advanced, and Hayworth began pitching his ideas to decision makers in Facilities Management. After four years of research, meetings, and support from allies like sustainNU, Hayworth's plan for exterior lighting upgrades was finally approved.

In December of 2016, Hayworth's team began replacing every outdoor light fixture on campus with LED technology. They also installed a new dimming system, which gradually dims lights at sunrise and slowly raises them up at sunset, rather than going full brightness all at once. On top of this, Hayworth discovered research showing that human eyes cannot perceive significant drops in brightness from LEDs. He began experimenting, reducing the power output little by little. Sure enough, the difference was not noticeable. Today, Northwestern's outdoor lights are consuming 50 percent less energy – on top of the savings attained from converting metal halide to LED's - while still illuminating campus dark spots much more efficiently than before.

Hayworth also found a way to make his team's job easier. He installed a control system dashboard, which sends him an automatic text message when lights go down. The text message tells him exactly where the light is and what went wrong, meaning his team knows when there's a problem and can immediately take care of it, rather than spending time driving around campus looking for burnt-out bulbs.

The current project phase will be completed by September 2017. The next phase will be a two-year effort to replace all old exterior lights on existing buildings and will identify areas to install new ones. When phase two is completed, Northwestern will be saving over 300,000 kilowatt-hours per year or the same amount as the annual energy use of 22 homes. We will also be padding our wallet with annual savings of about $40,000.

Hayworth is proud of these improvements, but he also points out how they have impacted his team.

"We often base efficiency on kilowatts saved, instead of focusing on what the systems are capable of doing to decrease labor," he says. "When my team can come in and do work, they enjoy their job more, and I see that boost in morale and productivity every day."

The project will also benefit everyone who spends time on campus after the sun goes down, providing just the right amount of light to make it easier and more pleasant to navigate campus at night.