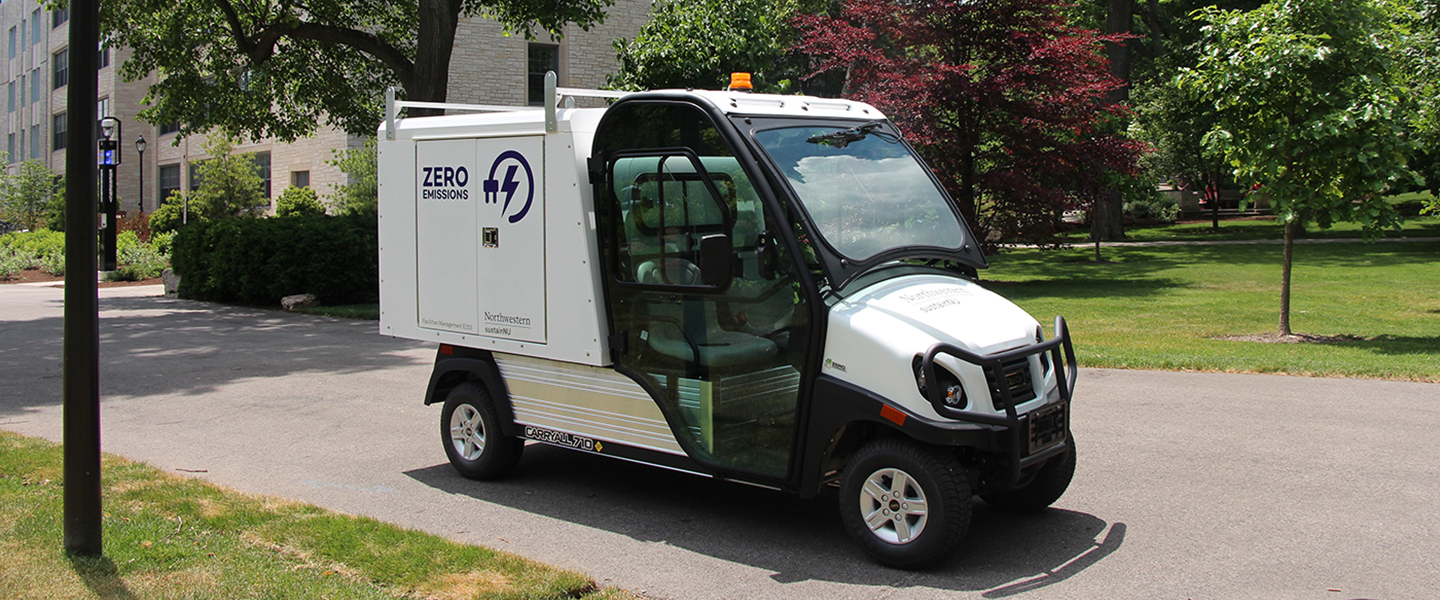 Northwestern Rolls Out More Electric Vehicles
Northwestern is committed to reducing the University's greenhouse gas emissions, including emissions from transportation. One strategy for cutting emissions from transportation involves converting the University's fleet to include more vehicles that run on cleaner, greener technology. This spring, Facilities Management made strides toward diminishing our fleet's impact with the purchase of 16 all-electric Club Cars. The change has made a measurable dent in the number of gas powered vehicles roaming around campus.
Transportation currently accounts for a 12,977-metric-ton share of Northwestern's total annual greenhouse gas emissions. This is equal to annual emissions associated with powering 1,370 U.S. homes. The 16 electric vehicles will take the place of 24 personal vehicles that were being used for the same purpose. This will save nearly 114 metric tons of greenhouse gas emissions. This amounts to the emissions from powering 12 U.S. homes for a year.
Most of the new Club Cars are powered by a 48-volt electric powertrain motor and can charge through a regular 120-volt electrical outlet. Facilities Management will use the vehicles to respond to service calls across campus, working on projects that include carpentry, painting, grounds keeping, and electrical work. The 16 new electric vehicles join ten that are already in service, bringing Facilities Management's total electric vehicle fleet to 26.
Vince Geraci, Manager of Maintenance Trades, oversaw the procurement of these vehicles.
"I looked at the gas powered Kubota vehicles we were using to do work on campus and wondered whether we could get something like that that was electric," said Geraci. "I looked into it and worked with the purchasing staff, and we found some electric vehicles that would meet our needs. I brought that to the leadership in Facilities Management, and they agreed it would be a sound investment, so we moved forward with the project," he said.
This development highlights Northwestern's commitment to sustainability. The University will continue to work toward a more environmentally friendly fleet of vehicles by eliminating unnecessary vehicles, downsizing large vehicles, and choosing electric and hybrid options when they are available.