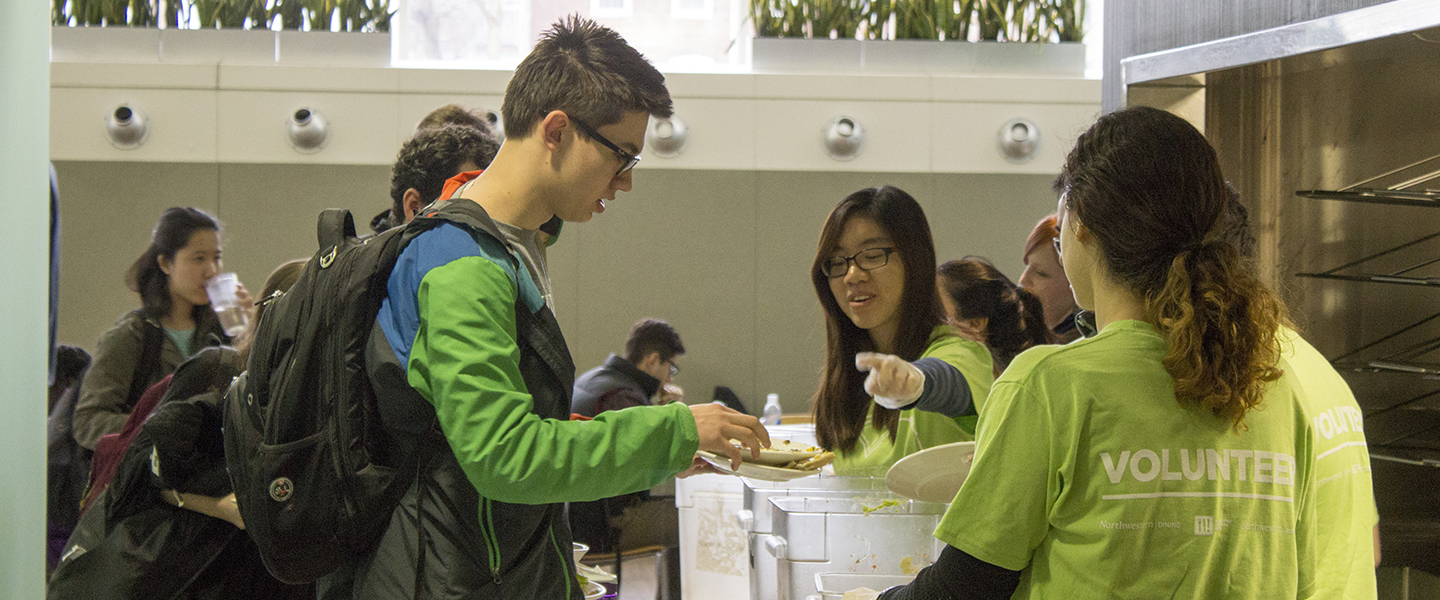 Students Measure Dining Hall Waste
On February 16 and 23 Northwestern Dining hosted Weigh the Waste events during lunch in Sargent Dining Hall and Allison Dining Hall. The results are in, and the winner is Sargent Dining Hall. In Sargent, the waste collected from diners measured in at 0.28 pounds per person, while Allison diners generated 0.51 pounds per person.
Weigh the Waste collects and measures plate-waste generated by diners as a way to identify opportunities for reducing and creating awareness around food waste. During the one-hour Weigh the Waste event in Sargent Dining Hall, volunteers collected 82.18 total pounds of waste, for an average of 0.28 pounds per person. Sargent's waste consisted of 57 percent significant edible food scraps, 27 percent liquids, 13.5 percent inedible food scraps and paper, and 2.5 percent non-compostable items.
Allison Dining Hall generated 95 pounds of waste for 0.51 pounds of waste per person. Allison's waste was made up of 28 percent significant edible food scraps, 32 percent liquids, 8 percent inedible food scraps and paper and 32 percent non-compostable waste. For detailed Weigh the Waste results please see the reports for Sargent or Allison.
It is important to note that Allison Dining Hall hosts the kosher station, which uses disposable plates. This station added to their total non-compostable waste. Also, on the day the Weigh the Waste event was conducted in Allison, the meal included meat with bones, which are not collected for composting.
The four categories used for sorting waste during Weigh the Waste are: liquids; significant, edible food scraps; inedible food scraps and paper; and non-compostable goods. Categories such as liquids, food scraps, and paper are collected for composting when diners send these items back on the dish return. Non-compostable goods such as tea packets with staples or cracker wrappers are not.
The distinction between edible food scraps and items like banana peels was designed to draw attention to strategies for reducing waste. Fruit peels are not a target for waste reduction. However significant edible food scraps highlight an opportunity for waste reduction. Rather than having this uneaten food end up in the compost bin, students can reduce waste by being more mindful of how much food they load onto their plates. Untouched food that remains in the kitchen after meals is donated to Northwestern's Campus Kitchens program and go toward feeding those in need in the Evanston community.
The waste totals for Weigh the Waste were comparable to Weigh the Waste data from previous years. Going forward, sustainNU and Northwestern Dining are committed to seeing these numbers decline. Northwestern Dining will work with sustainNU and several student group volunteers to host Weigh the Waste events again in April and May.
In addition to providing useful information about what sorts of things end up in the waste stream in dining halls, the events serve to inspire students to consume less. Volunteers surveyed students as they left the dining halls after the events, and nearly half said they would take less food in general in the future.
For more tips on cutting waste, visit Northwestern Dining's article "5 Ways to Reduce Your Dining Hall Waste." To provide feedback on Weigh the Waste events use this form.