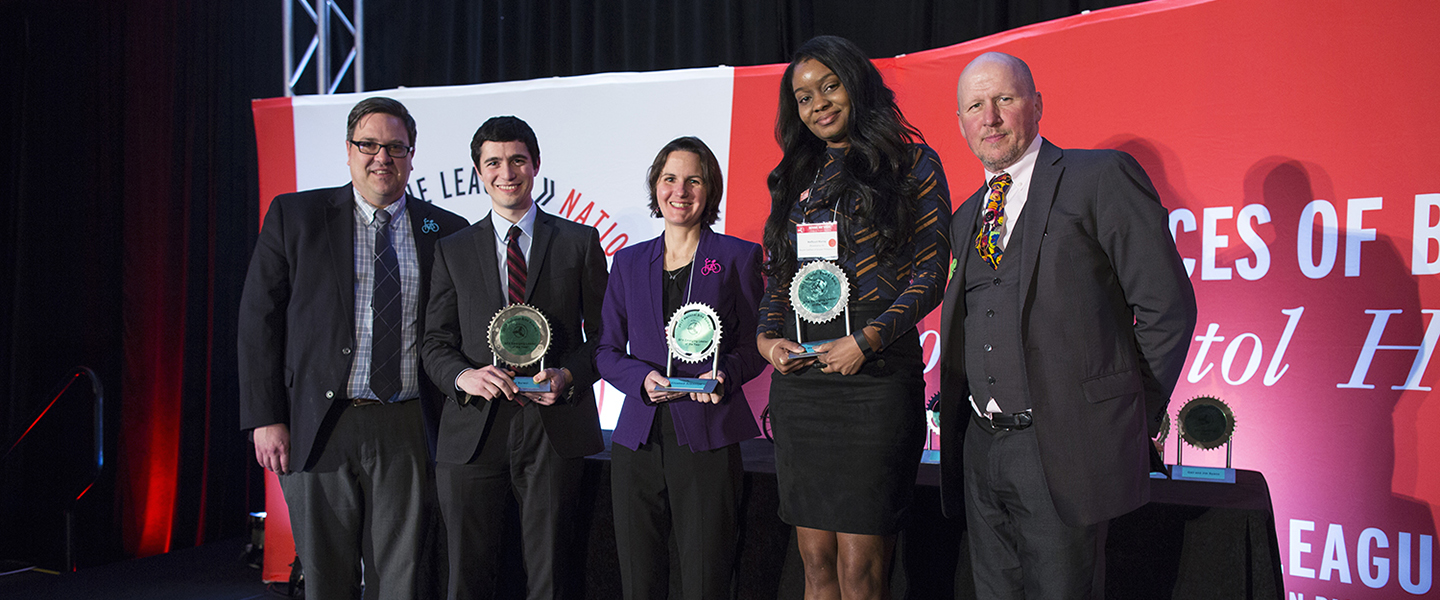 Northwestern Sustainability Leaders: Elizabeth Adamczyk
Students, faculty, and staff members from across the University are making significant contributions to sustainability efforts at Northwestern. sustainNU working groups engage members of the campus community in implementing programs aimed at improving the built environment, conserving resources, enhancing environmentally friendly transportation options, and more. Northwestern staff member Elizabeth Adamczyk is a long-time cycling advocate who serves as co-chair of sustainNU's Transportation Working Group. Her leadership supports efforts to make it easier to travel to and around Northwestern's campuses in ways that minimize the environmental impacts of transportation.
Elizabeth works as an operations specialist in the University Libraries, and her leadership of the working group is a natural extension of her involvement the Library Environmental Committee and her interest in cycling. She commutes to the Chicago campus from the Lakeview neighborhood of Chicago, and cycling has been her preferred method of transportation since 2004. She got involved in advocating for cyclists when she organized a library team for the Active Transportation Alliance's Bike Commuter Challenge (previously called Bike to Work Week) 10 years ago. In later years, the group grew and Northwestern entered the challenge as a University-wide team, which Elizabeth coordinated.
For several years, she also helped to facilitate a cycling committee that worked to build community among campus bikers and advocates for adding facilities such as indoor bike parking and showers for cyclists. She has contributed to sustainNU events such as Earth Week by organizing bike tune-up stations and educating members of the campus community about bike safety. When sustainNU established working groups to oversee strategic sustainability initiatives, Elizabeth stepped up to co-chair the Transportation Working Group.
"I see this as a natural progression of my work leading not just bicycling efforts, but promoting sustainable transportation methods and getting people to think outside of just driving to work," she said.
The Transportation Working Group has established some ambitious goals, and projects are already progressing.
"A lot is coming down the pipeline," said Elizabeth. "I want to see Divvy expand. I want to see opportunities for transit benefits for cyclists and walkers as a collaboration with HR. And I would like to see a formal bike presence on campus in terms of a place to get repairs done and covered parking."
In March, Elizabeth attended the National Bike Summit in Washington D.C., where the League of American Bicyclists honored her with an Emerging Leader Award. The award recognizes leaders who have demonstrated exceptional bicycle advocacy and show great potential to continue to grow as leaders in the cycling movement. Elizabeth says the summit was an excellent opportunity to share ideas and draw inspiration and encouragement from other bike advocates from across the country. She hopes to draw on some of the strategies that have been effective in other regions to improve the cycling experience for members of the Northwestern community.
She points out that biking can be a fun, healthy way to get around, and it all starts with basic safety practices. She advises campus cyclists to maintain their bikes properly, learn and follow the rules of the road, and to wear a properly fitting helmet in the way it is designed to be worn. Also, a front headlight is required for cyclists in Illinois, and good lights are crucial for seeing and being seen after dark. (Take the Illinois Bike Safety Quiz to check your knowledge.)
As co-chair of sustainNU's Transportation Working Group, Elizabeth continues to lead the way in making cycling and other environmentally-friendly forms of transportation more accessible and convenient for the campus community. Her leadership has been vital in encouraging sustainable transportation and moving Northwestern forward toward our sustainability goals.