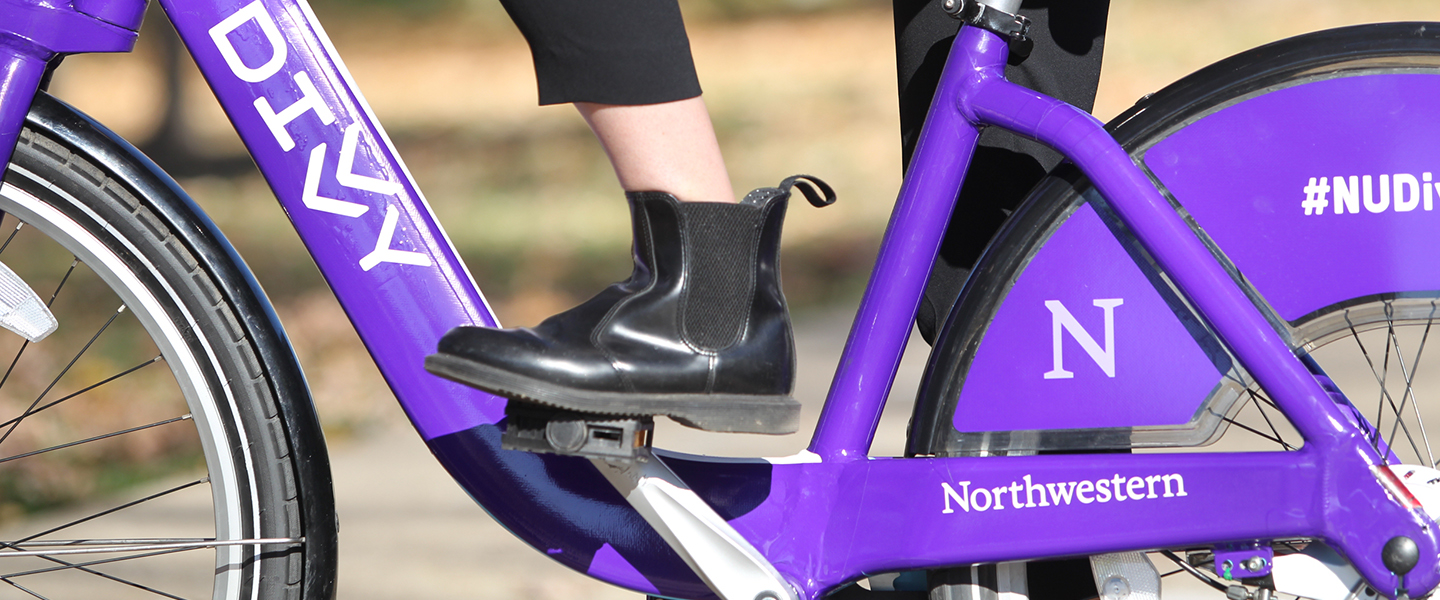 Purple Divvy Bike to Return in April
Last November, Northwestern worked with the Divvy bike share system to introduce a purple Northwestern-branded Divvy bike. The bike covered a lot of miles before it was removed from circulation at the end of January. It will be back for more adventures this April.
Divvy is the Chicago area's bike share system. It allows members to check out bikes at stations located throughout Chicago and Evanston. Members can make an unlimited number of trips and can check out the bikes for 30 minutes at a time. The system offers both annual memberships and one-day passes.
Regular Divvy bikes are painted the same shade of light blue as the stripes in the City of Chicago flag. The exception is a "unicorn" bike, which is a rare bike in the system wrapped in a different color. Northwestern University hosted the first unicorn in the Evanston Divvy system with the introduction of the purple bike. Unicorn bikes work their way through the system organically, drawing attention and providing exposure for the sponsor.
In the weeks that the purple Divvy bike was in circulation, it made 141 trips, traveled more than 170 miles, and checked in at 56 different Divvy stations. The bike started out in Evanston, and made its way as far west as the Ravenswood Manor neighborhood in Chicago and as far south as Jackson Boulevard in the Loop. Riders docked the bike at stations near Millennium Park, Navy Pier, the Lincoln Park Zoo, and near Abbott Hall on Northwestern's Chicago campus. In order to promote the bike share system, Northwestern and Divvy offered free annual memberships to the 25th, 50th, and 75th riders to check out the purple bike. One of the winners was Northwestern graduate student Jordan Nelson. Jordan is working on his PhD in chemistry, and he often uses Divvy to commute to campus.
"There's no bus line that takes me to NU from my house on the border of Skokie, but there is a Divvy stop a few blocks away. When it's not winter, I ride Divvy to and from school almost every day of the week," he said. "I also use Divvy when I take the intercampus bus to Chicago, because often I want to get from River North to the Loop, or Randolph Street, and Divvy is perfect for this," he said.
Over the fall, riders could enter to win prizes such as bike shop gift cards by sharing photos of the purple bike on social media. The social media promotion will continue when the Northwestern bike returns to the streets in the spring. Starting in April, keep your eyes peeled for the purple unicorn, and share your photos with the hashtag "#NUDivvy" for a chance to win.