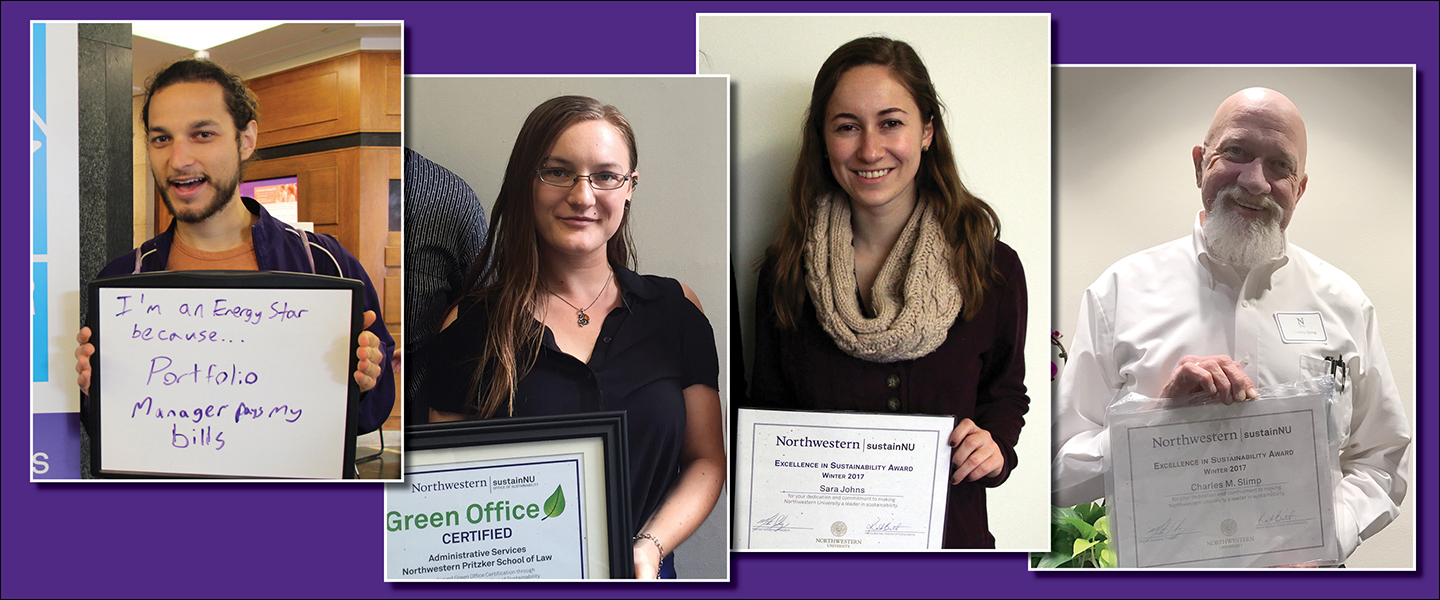 Sustainability Excellence Awards Recognize Campus Green Leaders
Each quarter, the sustainNU program presents Sustainability Excellence Awards to members of the Northwestern community who have contributed to efforts to reduce the University's environmental footprint. The honor is presented in conjunction with the Human Resources Service Excellence Awards, which recognize staff members for exemplary work. The sustainability awards provide recognition for students, faculty, and staff members, and any member of the University community can submit a nomination.
Since the start of the academic year, two students and two staff members have received Sustainability Excellence Awards. During the fall quarter, Medill student Scott Brown was presented with the award for his ongoing leadership in student environmental organizations. Scott is pursuing a double major in journalism and environmental science and is one of the co-founders of In Our Nature, an online environmental magazine. Scott was nominated by ASG President Christina Cilento.
"Scott is fantastic at engaging people around the environment and knows how to connect with students, faculty, and administrators to make them realize the importance of the cause he cares about," she wrote in her nomination.
The fall sustainability award for faculty and staff went to Katrina Peters, a staff member in the administrative offices at the Northwestern Pritzker School of Law. Katrina was instrumental in efforts to achieve Green Office certification for two administrative offices within the law school. She coordinated efforts to assess energy and resource use in these spaces and encourage more sustainable practices.
The winter quarter award for a student went to Sara Johns, a senior in Weinberg. Sara is the co-chair of Students for Ecological and Environmental Development (SEED), one of Northwestern's larger and oldest student organizations focused on environmental issues. She has also served as the chair of the Green Cup committee, helping to organize the campus-wide competition to save energy and water. In addition, Sara regularly steps up to support campus sustainability efforts by volunteering at events and participating in the sustainNU Transportation Working Group.
The staff awardee for the winter quarter was Mike Slimp, a chief engineer in Facilities Management. Mike has been instrumental in many energy saving projects on campus. He has facilitated energy conservation measure in buildings during holiday breaks and directed the installation of energy-saving ventilation systems in laboratory spaces. He is an important member of the sustainNU Energy Efficiency Committee who has provided valuable insights that continue to guide campus energy saving projects.
To nominate a member of the Northwestern community who has demonstrated a commitment advancing sustainability on campus, fill out a nomination form and email it to sustainability@northwestern.edu