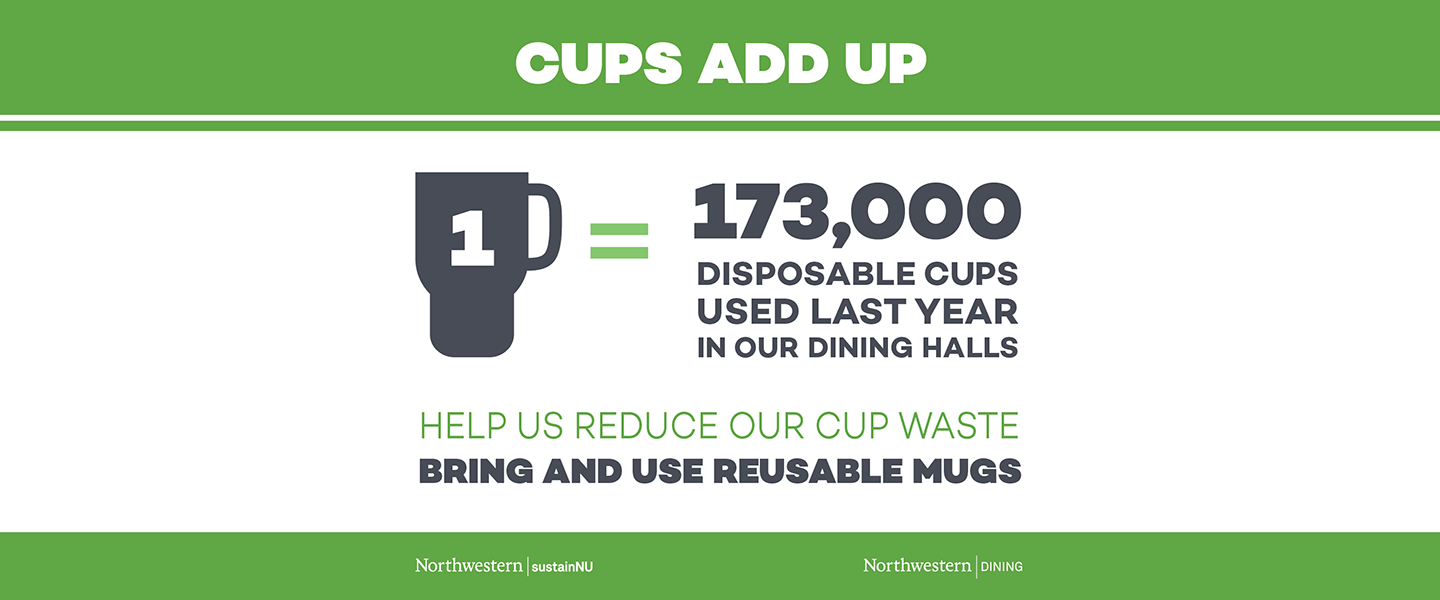 Reducing Waste at Northwestern Dining
In the month of February, Northwestern Dining started a push to encourage students to use reusable cups in the Dining Halls rather than disposable to-go cups. This initiative is part of a broader effort to reduce waste from dining facilities on campus. Northwestern Dining also composts food scraps in dining halls, works to educate students on how they can cut back on waste and donates extra food to Campus Kitchens.
Currently, campus dining halls offer cups and mugs that can be sent back on the dish return and washed. Dining halls also have stations where students can fill reusable water bottles. Students are also able to take beverages out of dining halls in disposable to-go cups. During the 2015 to 2016 academic year, 173,000 disposable cups were purchased for campus dining halls. Using reusable mugs will make it possible to reduce this number.
That's why Northwestern Dining is launching BYOM, encouraging students to "bring your own mug" to the dining hall for coffee, tea, or hot chocolate. Hot beverages can be carried out in mugs up to 20 ounces rather than in disposable cups.
This effort ties into the larger goal of reducing waste across Northwestern. In February, dining halls will hold a Weigh the Waste competition between North and South Campus. On February 16, those having lunch in Sargent Dining Hall will have their waste sorted, audited, and weighed. On February 23, Allison Dining Hall will be put to the same challenge. By measuring and publishing the amount of post-meal waste produced during these meals, students will have an opportunity to learn about how much they are throwing away, and how they can get closer to a goal of zero-waste meals.
Behind the scenes, dining halls are also reducing the amount of waste that goes to landfills by composting food scraps. To support this effort, Northwestern Dining is working with the ASG Sustainability Committee to create materials and signage instructing not to scrape their plates into the trash, but to send food scraps back on the dish line for compost collection.
Finally, to further reduce waste, Northwestern Dining donates extra food to Campus Kitchens, a student organization that delivers meals to the Evanston community. During 2016, this effort recovered more than 14,200 pounds of food, allowing Campus Kitchens to distribute more than 35,000 meals. Together, these efforts conserve resources, reduce waste, and contribute to a greener, more sustainable Northwestern.