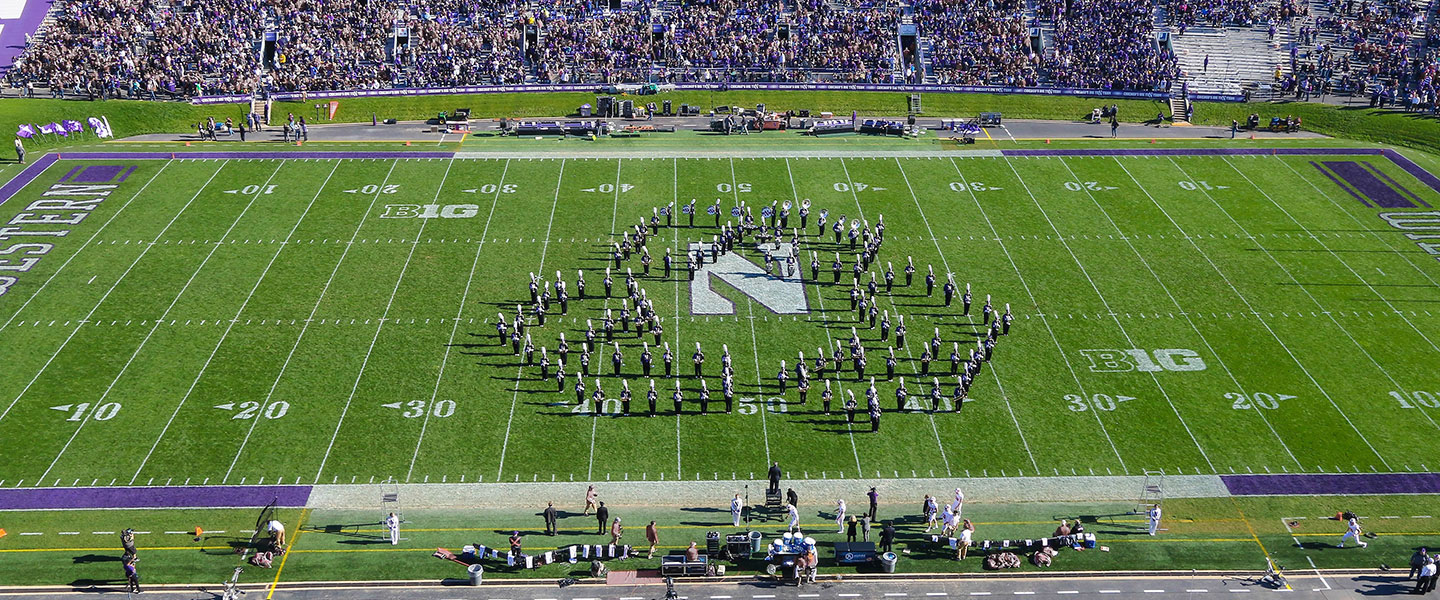 Making College Athletics Green
College athletics can draw big crowds, and as a result, events can have some big environmental impacts. That's why several groups at Northwestern are taking action to make sporting events more sustainable. Efforts range from improving energy efficiency in facilities to reducing the amount of waste generated on game days.
This fall, Northwestern took 12th place in the Game Day Challenge, a national competition to reduce waste at college football games. At the September 3 home football game, more than 66 percent of waste generated at the Wildcat's home game was diverted from landfill, mainly through recycling. Eastern Washington University and Ohio University tied for first in the challenge, each diverting more than 95 percent of waste from ending up in a landfill.
Waste reduction efforts at games go beyond a one-day event. Throughout the football season, the Trash Tacklers program puts student volunteers to work promoting recycling at home games. Student organizations that pitch in earn money for their student group. During the 2016 season, participating organizations included Real Food at Northwestern, Alternative Student Breaks, Women's Club Basketball, and the Chinatown Health Initiative.
The Associated Student Government (ASG) is getting involved as well. The ASG Sustainability Committee is working with Sodexo to identify alternatives to disposable cups and serving ware used at games. This initiative will seek out options that can be reused, recycled, or composted.
Also, the Athletics Sustainability Committee is a student group dedicated entirely to making Northwestern sporting events greener. This year the group's projects include organizing a clothing drive, updating recycling bin labels in athletic facilities, and exploring options for encouraging fans to carpool to games rather than driving individually. And the group isn't limited to student athletes. All interested student Wildcats are welcome to join.
Northwestern is also taking steps to make athletic facilities more sustainable. This past fall, Wildcats fans were greeted with a newly improved parking lot at Ryan Field. The reconstructed lot features rain gardens, landscaping with native plants, and updated, energy efficient lighting. In addition, the new Ryan Fieldhouse and Walter Athletics Center, which is currently under construction, is designed to achieve Leadership in Energy and Environmental Design (LEED) certification from the U.S. Green Building Council. Sustainable features include a highly energy efficient heating and cooling system, energy efficient LED lighting, and a 100 kilowatt solar panel array on the roof.
"As we upgrade our facilities, we have been very conscientious in our design and planning to make sure that sustainability continues to play a critical role in our decision making process," said Deputy Director of Athletics Brian Baptiste. "While we want to make sure we are designing world-class, high-performance venues, we are always looking at our sustainability efforts within our department through the lenses of energy, waste and transportation to reduce the negative impact on the environment. It matters today and it will matter even more into our future," he said.
Going forward, the University plans to work with the U.S. EPA ENERGY STAR program to provide data that can be used to establish national energy efficiency standards for athletic facilities.
All Wildcat athletes and fans are encouraged to help reduce the University's environmental impact by taking actions such as avoiding disposable cups and packaging, recycling, and traveling to games by biking, carpooling, or taking public transit. Working as a team, Wildcats can make sporting events more sustainable. Go 'Cats!