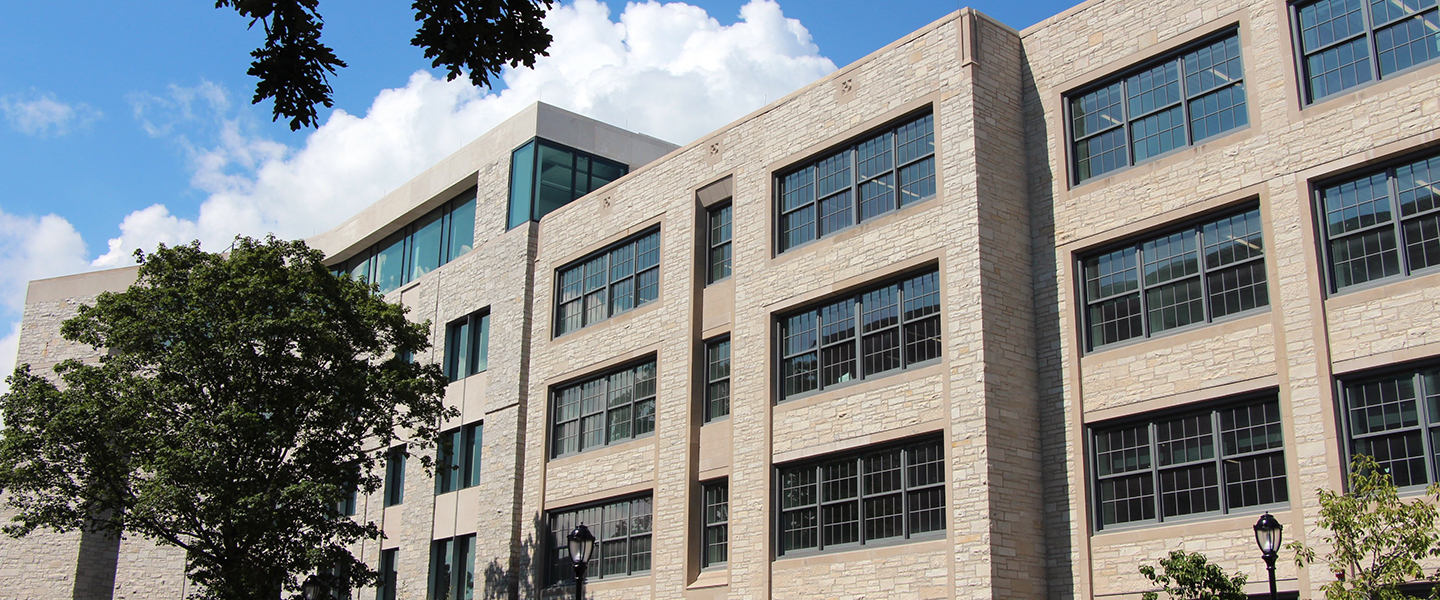 Kresge Hall Opens with New Green Features
Every piece of furniture in Kresge Hall was reused, donated, or recycled before demolition. Nearly 10 tons of material were repurposed via Rightsize liquidation company, and eight tons of material were recycled as scrap metal.
This August, faculty and staff started moving into the newly renovated Kresge Hall. The renovation was planned with sustainability in mind, and the project team is pursuing LEED Platinum certification from the U.S. Green Building Council.

Kresge Hall was constructed in 1955, and this is the first major overhaul of the building. Crews started work in the fall of 2014, taking the building down to its bare bones. The newly modernized structure offers plentiful daylight, updated technology, and a broad range of sustainable features.

The new heating and cooling system is designed to be extremely energy efficient. Radiant ceiling panels, or chilled sails, use chilled water from the Central Utility Plant to offset the need for air conditioning, and updated ventilation systems use sensors to reduce energy use when the building is unoccupied.  

Added insulation in the roof (R-30 value) and exterior walls (R-22 value) along with a white roof will also reduce the amount of energy used for heating and cooling.

Upgraded lighting and lighting controls will also help save energy. Highly efficient LED lighting has been installed throughout the building. All spaces over 250 square feet are equipped with sensors that automatically adjust lighting levels based on levels of natural light. In areas with less than 250 square feet, such as offices and seminar rooms, vacancy sensors automatically shut off lights when the space is unoccupied.
Renewable energy was also added to the building. A 254-solar panel array on the roof is capable of generating 81 kilowatts of electricity, enough to power 5 percent of the building's electric fixtures.
Low flow fixtures throughout the building drive down water consumption and reduce the energy used for water heating. The design includes toilets that use 1.28 gallons per flush and urinals that use half a gallon per flush.

Building occupants will enjoy high indoor air quality thanks to the use of paint, flooring, composite wood, adhesives, and sealants that don't emit harmful volatile organic compounds (VOCs). Materials that are recycled, green certified, and produced locally further add to the green profile of the building.

Even the demolition debris was handled sustainably. Erosion and sedimentation control systems were in place during demolition, and 95 percent of debris was recycled.

The completed building will house many of the humanities departments from the Weinberg College of Arts and Sciences, providing students, faculty, and staff with a modern, comfortable, and green place to study and work.