Wildcats go to Washington for the EPA's Green Power Leadership Awards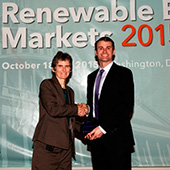 Rob Whittier, NU's director of sustainability, travelled to Washington where he received the award on behalf of Northwestern, sharing the stage with national leaders in renewable energy including Apple, Intel, Microsoft, and New Belgium Brewing.
On October 19, Northwestern University was honored with a 2015 Green Power Leadership Award from the U.S. Environmental Protection Agency (EPA). The award recognizes the country's leading green power users for their commitment and contributions to helping advance the development of the nation's voluntary green power market. 
"Green power is an important part of Northwestern's approach to sustainability," said Whittier. We reduce our energy use though smart building design and operation, and do what we can onsite with geothermal and solar. Then we offset the impact of the electricity that we do use by sourcing cleaner energy like wind."
In 2014 Northwestern took a major step forward by purchasing Renewable Energy Certificates (RECs) equivalent to 50 percent of the university's annual electricity usage. Buying RECs helps accelerate the development of new renewable energy capacity nationwide by providing a revenue stream for developers of wind and solar projects.
Learn more about renewable energy at Northwestern.
According to the EPA, Northwestern's current green power use of more than 122 million kWh is equivalent to the electricity use of nearly 12,000 average American homes annually. "Energy efficiency is another critical pillar of NU's approach to energy," said Whittier. "We work to make our buildings more efficient and to engage our students, faculty, and staff in efforts to use energy wisely. Northwestern is also an ENERGY STAR® partner, and is committed to purchasing efficient equipment for our facilities," he said.