Northwestern Signs White House Climate Pledge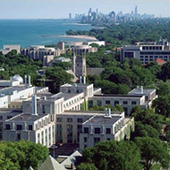 This November, Northwestern was among more than 200 colleges and universities to sign on to the White House's "American Campuses Act on Climate Pledge." The pledge demonstrates the University's support for strong action on climate change and its commitment to reducing its own impact on the climate.
"Northwestern University pledges to bring together the scientific research of our faculty, the entrepreneurial leadership of our students and the living laboratories of our campuses in order to advance marketable global energy and sustainability solutions," said University President Morton Schapiro.
In signing on to the pledge, Northwestern committed to achieving energy and greenhouse gas reduction goals. These goals include: reducing campus energy use by 20 percent per square foot; reducing greenhouse gas emissions by a total of 50 percent by 2020 compared to a 2010 baseline; kicking off a solar roof initiative; and expanding curricular offerings related to climate and sustainability.