Student trash becomes another's treasure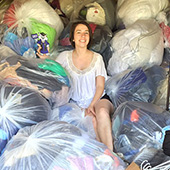 During this spring's move-out the Take it or Leave it program collected 10,000 pounds of clothing, household items, and food, diverting these items from the landfill and donating them to local charities.
Collections included 9,600 pounds of clothing and household items. The items went to Northwestern Settlement and Charity Pickup Service, an organization that operates local thrift stores and supports the Purple Heart and the Vietnam Veterans of America. These thrift stores are a valuable service for many in the Chicagoland community.
More than 350 pounds of nonperishable food were also collected during the program. Food was donated to the Northwestern University's Campus Kitchens Project (CKP). The donations will be used to provide meals and food baskets to those served by CKP this summer.
Off-campus students were also able to divert waste from the landfill by requesting pickups of mini-fridges, furniture, and other household items from Move in Move out (MIMO). MIMO is a student-run initiative, which collects unwanted items and sells them back to students at the start of the school year. This project is working to end the cycle of students buying new household items every year.