New addition to the Service Excellence Awards
When an NU community member has gone above and beyond the call of duty- there's the Service Excellence Award. Human Resources and the Office of Sustainability worked together to create three awards to acknowledge those who do the same for greening our campuses and curriculum. Learn about a few of NU's sustainability champions.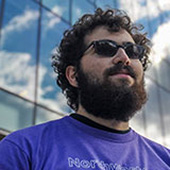 Fall 2014 Student Excellence in Sustainability Award Winner: Michael Ziebel
Role at NU: 
Class of 2015 Weinberg College of Arts and Sciences student, majoring in Chemistry, minoring in Economics, and receiving a Certificate in Sustainability and Energy. Mike is also president of Eco-Reps, chair of the Northwestern Sustainability Fund, and a member of the ASG Sustainability Committee.
Why Recognized:
Mike received this award for his leadership in a variety of campus sustainability-related organizations and his research on photovoltaics. His research combines his passion for the environment and his expertise in the sciences, and shows that he not only knows how to effectively lead, but can also apply himself to drive scientific change.
Who is your sustainability role model and why?
"My sustainability role model is my sister. When she was in high school, she would take the time to collect recyclables from the school and bring them home to recycle. That was one of the first things that showed me that a little extra effort can make a big difference. She was probably the person who first got me interested in sustainability."
What inspired you to be committed to the environment?
"There wasn't a single factor that really inspired me to be committed to the environment. During high school, I learned a lot about global warming and its potential effects around the world. I volunteered at a retirement home where the people were very interested in being more sustainable, and I learned a lot from them. To me, global warming is among the biggest issues we face as a society, and I've known for some time that I wanted to work towards a solution. It's always been a cause worth committing to."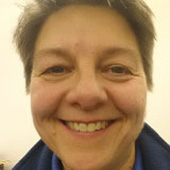 Fall 2014 Green Office Excellence Award Winner: Sue Oldenburg
Role at NU: 
Program Assistant, Research and Information Services at the University Main Library. Sue is also the leader of the Library Environmental Committee.
Why Recognized:
Sue was recognized for her passion and leadership throughout the Green Office Certification process at the University Library. She works hard to maintain a green community at the library that is active in its commitment to saving energy, reducing waste, and reducing water usage. She is also working to get other departments involved in the Green Office certification, demonstrating a desire to not only "green" the library, but the entire University.
Who is your sustainability role model and why?
"My family: my mother and her mother were my sustainability role models. They taught me to try and reuse/repurpose and recycle as much as possible. My grandmother's family were farmers. I grew up having a large, organic garden that provided food during the growing season and throughout the year by canning and drying. We threw very little away and lived by the motto: waste not - want not. My family opened the door for me to begin to understand my impact on the environment and what kinds of things I could do to live sustainably and sensibly."
What inspired you to be committed to the environment?
"Having children."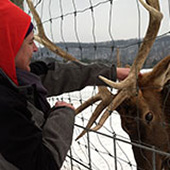 Fall 2014 Faculty and Staff Excellence in Sustainability Award Winner: Jen Thennes
Role at NU:
Senior Grant and Contract Officer at the Office for Sponsored Research.
Why Recognized:
When recycling bins aren't available, Jen collects the recyclables from co-workers and recycles the items herself, going above and beyond to reduce waste on-campus.
Who is your sustainability role model and why?
"My mom is my sustainability role model because she taught my brothers and me to care about the environment."
What inspired you to be committed to the environment?
"Nature is my inspiration. When I was growing up, we would go camping on weekends, and my brothers and I would go hiking in the woods in our hometown. I'm going to Wisconsin this weekend and can't wait to hike and visit the animals at Peck's Deer Farm. I love living in Chicago, but it's restorative to spend time in the countryside and woods."
Sustainability award winners receive a certificate, a reusable water bottle, and are recognized by Human Resources and President Schapiro at the Service Excellence Luncheon. Winter award winners will be featured in next month's newsletter. Any member of the University community is eligible. Please nominate someone today!