Waste less. Recycle more.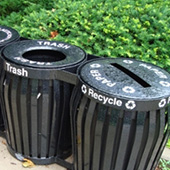 The Office of Sustainability has a work-study student dedicated to increasing recycling on campus. The Recycling and Resource Management Aide, Michael Daugherty, said he has learned, "the more convenient it is for people to the use recycling bins on campus, the more Northwestern will recycle as a community." Daugherty has been working to make sure recycling bins across campus are in good shape, labeled properly, and placed in appropriate locations. If you need recycling bins in your department or residence hall, please contact Julie Cahillane.
Another recycling effort on campus is RecycleMania. From February 1 - March 28, Northwestern is competing against more than 200 universities around the country to see who can recycle the most. This is Northwestern's fifth year competing in RecycleMania. RecycleMania rankings are based on recycling per capita, recycling rate as a percentage of total waste, and overall waste minimization.
The 2015 competition brings two new categories, which engage students to support Northwestern's recycling efforts. The first new category is the "Waste Less-Promote More: Engagement and Innovation Competition." Students can enter by planning and implementing a promotional outreach program to encourage other students to recycle. The students can then submit samples of their promotional materials to be judged by the RecycleMania judges. The second new category, "3R Actions Challenge," encourages students to support their university by tweeting about what they recycle on campus or by using the myactions app. With these new categories, RecycleMania is encouraging students to educate others and spread the word about recycling on our campuses.
Recycling is available in every building at NU with two mixes of materials collected, paper/cardboard, and cans/glass/plastics. In addition, plastic bags, computers, electronics, light bulbs, and printer cartridges can be recycled in designated areas.