Power down for the planet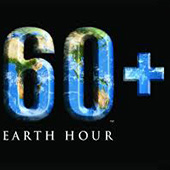 Earth Hour is the world's largest global event organized by the World Wildlife Fund (WWF) to raise awareness about climate change. Individuals, businesses, landmarks, and organizations turn off their lights and electronics for one hour on March 28 from 8:30 pm – 9:30 pm to reduce energy consumption. Northwestern University will join millions of people in 7,000 cities and towns across 162 countries to conserve as much electricity as possible in symbolic support for the environment. Monuments, buildings, and dwellings around the world take part, including the Willis Tower, Empire State Building, the Sydney Opera House, the pyramids of Egypt, and the Eiffel Tower.
This year marks Northwestern's seventh year of celebrating Earth Hour. Faculty and staff are reminded via email to shut down lights, computers, printers, copiers, and unplug unneeded electrical items (chargers, lamps, coffee machines, microwaves, power strips, etc.) before they leave their office on Friday, March 27 for the weekend. Certain lights, such as the Norris University Center sign, Millar Chapel window, and Feinberg sign, will be turned off in observance of Earth Hour. The Main Library will turn off their computers and other electronics for the weekend.
The entire NU community can get involved by powering down from 8:30 - 9:30 pm on March 28, wherever they are. Host a candlelight dinner or game night, or turn off the TV and go for a walk! There are many benefits to remembering that we can tune out and enjoy activities without electricity!