Students Take on Plastic Waste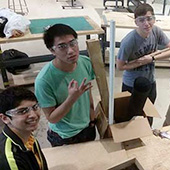 Northwestern students are involved in promoting sustainability both individually and through student organizations. One such organization is Pura Playa, a project of the student group Engineers for a Sustainable World. Pura Playa aims to reduce plastic waste in our community. Here is an update from Pura Playa on their their recent activities and their plans for the coming year.
Pura Playa Efforts at Northwestern
This fall Pura Playa has continued our efforts in educating and reaching out around campus to other students, bringing awareness to waste and recycling. We established a partnership with the Athletic Sustainability Committee, held a speaking event with Green House, and hosted multiple "Bobble" events at Norris in which we educated students about bottled water while giving away reusable water bottles. This year we were also excited to partner with WildHacks to distribute over 500 reusable water bottles to the hackers for the first time.
One of our proudest accomplishments this quarter has been aiding the beginning of the phase out of bottled water at Northwestern. As described in The Daily, In Our Nature, and North by Northwestern, the Norris C-store has reduced its stock of bottled water by 50 percent. We expect that Norris will completely eliminate the sale of bottled water by the end of the academic year. 
From an engineering project standpoint, we have put emphasis on education by beginning to build a bottled-water display to but put in Norris next quarter. This will serve as an art piece and as reminder to students to reduce, reuse, and recycle.