Reducing NU's footprint, one step (or pedal) at a time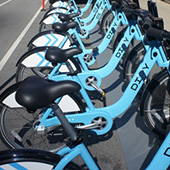 Northwestern University's Office of Sustainability, the Associated Student Government, and NU's Cycling Committee partnered to conduct the University's first comprehensive survey to understand the habits of local commuters. A mix of more than 2,500 students, faculty, and staff completed the survey, responding to questions about current transportation habits and what NU might do to encourage the use of more sustainable options like public transportation, bicycles, and walking.
"This survey gathered information about our current commuters and their environmental impact; and provided great insight into what we can do as a University and in partnership with the cities of Chicago and Evanston to increase use of healthier, more sustainable transportation options," said Director of Sustainability, Rob Whittier. 
"For example, our findings suggest that almost 40 percent of our faculty and staff drive alone to work, but that many of those respondents would consider public transportation if it were cheaper or cycling if there were safer paths to and from campus."
Over 50 percent of those who drove also indicated that NU's shuttles would be a way to get them out of their cars, suggesting an increase in frequency and more stops between the two campuses. To increase cycling, secure and covered parking as well as showers and changing areas were highlighted as opportunities.
Additional questions showed that there was overwhelming support for participating in the Divvy Bicycle sharing program. More than 64 percent of total respondents suggested that they were likely or highly likely to use such a program. Respondents also had a chance to indicate where they thought NU should place the first 2-3 Divvy stations on the Evanston Campus.
The information gathered will be used to create NU's first Strategic Plan for Sustainability. The survey will also be useful to Student Affairs, Facilities Management, Human Resources, University Police, and other departments to help steer changes for NU commuters in a more positive and sustainable direction.