Meet the students, faculty, and staff awarded for their commitment to sustainability
Established Spring 2013, Northwestern Sustainability Fund (NSF) has allocated more than $60,000 to student organizations. This fall, $10,300 was granted to eight different initiatives, and this winter $11,800 has been granted to six more. These projects and events were selected based on their potential for positive impact and engagement. Most of them focused on educating students, faculty, and staff and developing new tools and processes to advance NU's mission to become a leader in sustainability. 

A few of the initiatives are highlighted below: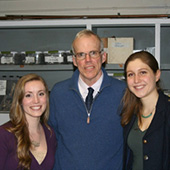 SEED Winter Speaker
The 2015 Students for Ecological and Environmental Development (SEED) Winter Speaker was the founder of 350.org., professor, journalist, and author, Bill McKibben. More than 350 attendees from NU and the surrounding community joined him in a discussion of environmental issues, his experiences leading grassroot movements, and working with college students to enact environmental change. Bill is the latest in a list of notable environmental leaders that have spoken at NU, including Thomas Friedman, Jean-Michel Cousteau, Paul Krugman, Justin Gillis, Amory Lovins, and Robert F. Kennedy Jr.

In Our Nature Online Publication
In Our Nature, founded this fall, is a student-run online publication dedicated to reporting about topics in energy and sustainability. In Our Nature aims to engage and entertain Northwestern students while teaching them about environmental issues and promoting action. NSF funded promotional items and their online platform for the next three years. 

GreenFest
GreenFest was a sustainability-themed festival hosted by the Eco-Reps that took place during Green Cup. The event allowed students to learn about sustainability through interactive activities like potting plants, making reusable bags from t-shirts, and using a bike to blend smoothies. There were more than 100 attendees at this event, which featured five environmental student groups. 

Environmental Day of Service
The ASG Sustainability Committee held Northwestern's first Environmental Day of Service, which took place during Green Cup. The event offered students the opportunity to volunteer in Evanston and Skokie with a handful of environmental organizations with the goal of fostering relationships while immersing students in their local community. 

Composting 101
The Associated Student Government (ASG) Sustainability Committee, NU Sustainable Food Talks, and Off-Campus Eco-Reps hosted a composting tutorial for NU students on January 31. The event educated students about the process of composting in the dining halls and Norris, the benefits of composting, how to vermicompost, and the services offered on-campus and in the Chicagoland area. More than 50 students attended this event and many went home with prizes, including free composting collections for 2 months. 

Global Divestment Day & Nuclear Energy Panel
Global Divestment Day took place February 13, 2015 as the first-ever international event organized to raise awareness about the problems of fossil fuels. DivestNU hosted several events on the Evanston campus, including a letter-writing campaign and a mock-trial against coal to educate students about the divestment movement and to push the Board of Trustees towards action. DivestNU will also host a panel-style debate this spring, featuring experts in the field of nuclear energy. The speakers will discuss the future of nuclear energy, particularly in the US, and how it relates to future consumption of fossil fuels. 

NUSOS 2015
The Northwestern Summit on Sustainability (NUSOS) will be held April 10 with the theme "Your Plate, Your Planet" and will educate students on the relationship between sustainability and food. This is an annual event hosted by Engineers for a Sustainable World (ESW).

NUSolar
NUSolar is a student-run organization at the forefront of building solar powered vehicles using cutting edge manufacturing techniques and solar technology. The NUSolar Car team will be using NSF funds to educate Northwestern and the surrounding communities about the potential of solar-powered transportation. 

Vertigrow
VertiGrow is a hydroponics system designed by Northwestern engineering students last spring. The system allows produce to be grown indoors with minimal water and energy input. Vertigrow is a project of Engineers for a Sustainable World (ESW) and will use NSF funds to develop a prototype that can be housed on campus and potentially supply the dining halls with fresh produce. 

Pvmnt
Pvmnt (pronounced pavement) is a new system, which will allow student groups to advertise their events digitally, saving the waste from ground flyering. Pvmnt will use their website and app to help students discover new events. NSF funding went towards the development of Pvmnt's mobile app as well as research and development for expanding the platform.

NSF now accepts applications on a rolling basis.