The life of an Eco-Rep
There are more than 50 Eco-Reps representing on-campus, Greek, and off-campus life this year. Get to know Eco-Reps, Henry Chen and Liberty Vincent, and learn about the responsibilities of the role, its challenges, and its benefits.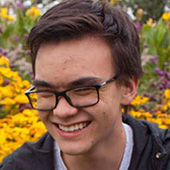 Henry Chen: Chapin Eco-Rep
"Living sustainably has always been a priority of mine, so when I discovered Northwestern Eco-Reps I couldn't wait to get involved. Becoming a Northwestern Eco-Rep provided the perfect opportunity for me to work with my residential college's Executive Board while dealing with topics that I'm passionate about.

Every week, Eco-Reps meet to discuss environmental opportunities (on campus and worldwide), plan events, and work towards cultivating a greener Northwestern. Participating in regular discussions about the most pressing environmental challenges has made me a more knowledgeable environmentalist, and it's refreshing to debate with peers who are so passionate about the environment.

Eco-Reps have a number of responsibilities and events throughout the school year - the most important of which is Green Cup, Northwestern's annual energy and water reduction competition. During Green Cup it's especially important to encourage your residents to cut back on water and electricity usage. There are also a number of environmental-themed events during Green Cup, from scavenger hunts to composting presentations. My personal favorite this year was the Environmental Day of Service, when I got to work on an urban farm and learn about the best ways to find local, seasonal, and sustainable produce. Of course after Green Cup, Eco-Reps still have weekly meeting and events. This spring, we're planning everything from film-screenings to a trip to the indoor farmer's market. 

Being an Eco-Rep doesn't come without its challenges; Northwestern students tend to have so many commitments that living sustainably isn't always the highest priority. I find myself reminding my residence college-mates to turn off their lights, take shorter showers, and sort their recycling. It is also sometimes difficult to get people to come to Eco-Reps events (especially on Saturday mornings). But overall, being an Eco-Rep has been extremely rewarding; I truly feel like I'm making a difference on campus."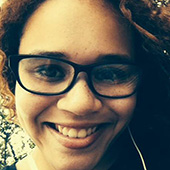 Liberty Vincent: Hobart Eco-Rep
"I became an Eco Rep this fall when the position became available on my Residential College's Executive Board. I was eager to get involved in my Residential College's community and, having applied to NU as an Environmental Engineering major and being an environmentally conscious student since junior high, the position sounded right up my alley of interests and causes. 

I soon realized that what interests me the most about sustainability is not necessarily the science behind climate change, but the incentives and information people need to become more proactive about changing some of their daily habits in order to reduce the effects of climate change. As an Eco Rep, I've been able to get quality firsthand experience with this. I've been able to explore different methods of encouraging my residents to participate in environmental activities on campus and to make small, gradual changes towards living sustainably. 

That said, achieving large turnouts to events has been the most challenging aspect of this job. This challenge has shown me what kinds of factors, particularly time of day, community appeal, and event hype, can turn people on or off from participating in different types of activities. I've also learned about the effectiveness of different methods of communication for these events, such as successful emails and when they need to be accompanied by visual announcements around the building. 

I am considering switching majors to Computer Science and part of my decision to do that is the presence of so many great environmental groups on campus, including Eco Reps. I can pursue a different degree that I'm interested in while simultaneously being able to share environmental awareness like I initially sought to do. Taking on this role and responsibility was a great decision that helped me take on a leadership position and get involved here at Northwestern."