Garnering support for a greener workplace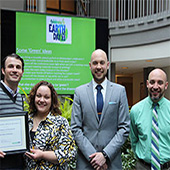 Alumni Relations and Development got certified on Earth Day, inspiring more offices and departments to consider applying for Green Office Certification to reduce their waste as well as conserve energy and water in their workspace.
Alumni Relations and Development has 252 employees and is the second largest department to be certified after the University Library. Naturally, with that large of a department, the certification process had some small obstacles. According to Manager of IT and Facilities for Alumni Relations and Development, Brad Wilson, it was easy to recruit Green Leaders, but challenging to get the ball rolling with the garnering 75 percent participation from their entire department. "It was hard with so many people," Brad Wilson said, "and we didn't want to distract from other initiatives." However, some parts of Green Office Certification were easier to implement. The helpful signage around the office provided simple and ubiquitous tips to keep the office on track. Email templates were also used to share Green Office information with co-workers.
Green Office Certification doesn't just work to increase awareness of sustainable behavior; it also brings the department together. Alumni Relations and Development Green Leaders were made up of co-workers from several different groups. Leaders who were great at design worked with Leaders who were managerial experts, and it all made for better, more effective teams. There were always new faces at the office training sessions, and Green Office provided a common ground on which to start conversations.
Wilson was surprised and thrilled to see how small changes can lead to a larger impact; he found that, "changing the impacts of 200 - 300 people can start with just two people." The department-wide changes didn't stop when Alumni Relations and Development was Green Office Certified; they are in the process of developing a program to make five office-owned bicycles available to co-workers and expanding the availability of reusable silverware and flatware in the office. In addition, Alumni Relations and Development recently offered a sustainability tour of the Evanston campus to donors and are researching environmentally responsible ink and paper alternatives for Alumni paper mailings.
"Green Office Certification is more of a marathon than a sprint," Brad Wilson adds. But overall, Alumni Relations and Development feels great about doing their part to make Northwestern a more sustainable and healthy place to work.
The Office of Sustainability is excited for the 30 offices and departments that have applied to Green Office Certification, including Human Resources Payroll, Kellogg School of Management Office of Advancement, Office of Administration and Planning, Office of Student Auxiliary Services, Facilities Management, Office of Budget and Planning, Norris University Center, New Student and Family Programs, Department of Earth and Planetary Sciences, School of Law Office of Admissions, and University Service's Purchasing Resource Services, just to name a few! IT Information and System Security/Compliance has also already been certified.