Green Cup Encourages Sustainable Habits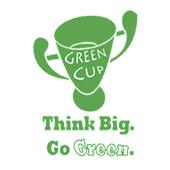 From October 19 through November 15, student residences competed in the Green Cup challenge, an event designed to promote energy and water conservation and other sustainable practices. Competing residences earn points by reducing their energy and water use compared with their baselines. The baselines are calculated using per person energy and water usage during the two weeks prior to the competition. In addition, teams can earn points by taking a pledge to adopt environmentally responsible habits, attending educational events focused on sustainability, and participating in the green room certification program.
Winners were announced on November 19 at the closing ceremony, where prizes were awarded, including cash rewards and Green Cup trophies that will reside with the winners until next year. The winners this year were Foster-Walker for residence with food service and GREEN/CCS for residence without food service. Sigma Phi Epsilon took home the fraternity trophy, while Kappa Delta won the sorority category.
The conservation efforts during Green Cup had a noticeable impact on energy and water use in the residence halls. Average electricity usage was below the baseline throughout the competition. Average water use started above the baseline, but conservation messages appeared to get through in week three, and usage was below the baseline during the second half of the competition.
Congratulations to the winners and to everyone who did their part to create a more sustainable campus. We hope that some of the environmentally responsible practices that students adopted during the competition will become routine practices all year long.