Tackling Football Trash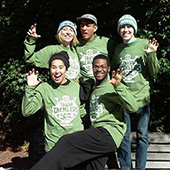 Northwestern is working to reduce the amount of waste we send to landfills, and tackling the trash at athletic events is an important part of that effort. The University has been collecting recycling at home football games since the 2008 season, and we've steadily increased collection and fan awareness. During the 2015 season, an average of 47 percent of waste produced games was diverted from landfills through recycling efforts. That's a big improvement over the first year when approximately 22 percent of the game day waste was recycled.
An exciting new development for the 2015 season was the establishment of the Trash Tacklers program. The Office of Sustainability, in partnership with Northwestern Athletics, received a sponsorship from Advanced Disposal and USG to promote increased recycling at football games. Student groups were able to adopt a game and serve as Trash Tacklers, or recycling ambassadors, for tailgating activities. In exchange, the organizations received financial stipends to support their activities or philanthropy efforts. The Trash Tacklers walked the tailgate lots promoting recycling awareness and collecting recyclables from attendees. Fans and volunteers enjoyed this interaction, and it provided great visibility for game day recycling throughout the season.
Our highest recycling rate for the 2015 season came during the October 3 game against Minnesota. During that game Northwestern participated in the national Game Day Recycling Challenge. This involved increasing the emphasis on recycling with in-stadium announcements and additional volunteer crews promoting recycling during the game. Of the nearly 120 participating schools Northwestern came in 23rd with a diversion rate of 54 percent. The per person recycling rate jumped to 0.33 pounds per person compared with the average game day rate of 0.26 pounds. At the same time the amount of trash generated went down from 0.30 to 0.28 pounds per person. This might not seem like much, but it adds up when multiplied but the 30,000 plus attendees who fill Ryan Field each game day. Go 'Cats!