Evanston is the 2015 Earth Hour Capital of the US!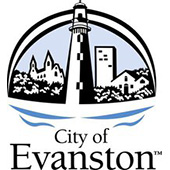 On Saturday, March 28, 2015, more than 7,000 cities and towns across 162 countries turned off their lights and unplugged their electronics in support of the World Wildlife Fund (WWF)'s Earth Hour. The City of Evanston had a special role this year, it was selected the winner out of 44 applicants as the 2015 Earth Hour Capital.
The "We Love Our Cities" campaign, dedicated to selecting the Earth Hour Capital winner, followed three finalist cities, Cleveland, Seattle, and Evanston, as people voted from the end of January to March 27 for which city they believed should represent Earth Hour this year. Voting was done online and by sharing #WeLoveEvanston on social media. 
Evanston is the smallest of the three finalist cities, with a population of 75,000, but due to its commitment to sustainability, it received the most votes. These commitments include using a municipal aggregation program to provide 100 percent renewable electricity for all homes and small businesses for the last three years, creating a resolution requiring all buildings over 10,000 square feet to meet silver certification level of the US Green Building Council's Leadership in Energy and Environmental Design (LEED) standard, developing a Climate Action Plan, and installing a 25 kW solar panel on its water treatment plant. Last year, Chicago won the title of 2014 Earth Hour Capital.
To accept the award, Evanston Mayor Elizabeth B. Tisdahl and Sustainability Manager Catherine Hurley traveled to Seoul, South Korea to be recognized by the WWF for the city's achievements. "We are extremely proud to be appointed the 2015 U.S. Earth Hour City Capital," Evanston Mayor Elizabeth B. Tisdahl said. "It was an honor to compete alongside Cleveland and Seattle, large cities known for their sustainability efforts. I am looking forward to meeting with leaders from City Capitals across the globe to learn more about their green efforts and how Evanston can continue to improve our sustainable efforts."
Northwestern University also joined millions of people to conserve as much electricity as possible in symbolic support for the environment. Certain lights, such as the Norris University Center sign, Millar Chapel window, Clark/Chicago Northwestern University sign, were turned off in observance of Earth Hour.