Northwestern breezes into fifth place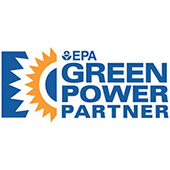 Northwestern University has moved into the top 5 of the EPA College and University Green Power Partnership. NU substantially increased our commitment to renewables, now purchasing Renewable Energy Certificates (RECs) equivalent to 50 percent of our total electricity usage (up from 38 percent). Our rank went from 52nd to 44th in the National Top 100 list, which represents the largest green power users within the EPA Green Power Partnership. This REC purchase of 122,000 megawatt hours is equivalent to taking 17,700 cars off the road or planting 2,157,000 trees a year.
In addition, the Big 10 is this year's Collective Conference Champion. The conference's collective green power use of more than 375 million kilowatt hours (kWh) is equivalent to the electricity use of nearly 36,000 average American homes. As part of EPA's Green Power Partnership, nearly 1,300 organizations are using more than 28 billion kWh of green power annually, equal to the electricity use of nearly three million average American homes.
Northwestern purchases renewable energy certificates from 3Degrees, which helps to reduce the environmental impacts associated with the University's electricity use through generating and delivering wind energy into the power grid. In addition, Northwestern is generating its own green power from an onsite renewable energy system, a solar photovoltaic array covering nearly the entire available roof of the Ford Motor Company Engineering Design Center. The 16.8-kilowatt panel display has the potential to generate as much as 20,000 kilowatt-hours (kWh) of electricity per year, enough to power a computer lab in Ford and reduce the University's reliance on the power grid.