The Evanston campus goes electric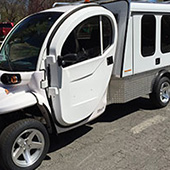 Transportation is the third largest contributor to Northwestern's greenhouse gas emissions (GHG) and NU is taking a multi-faceted approach to reducing those emissions by helping commuters and our fleet go electric. The latest additions to the Evanston campus are four Polaris Global Electric Motorcars (GEM), which will replace the large gas-sipping trucks that you occasionally encounter on our campus roadways. These trucks each generate nearly 9 tons of GHG emissions a year. The small street-legal, electric powerhouses provide NU's shops and grounds crew with a quick, convenient, and low-emissions way to service the campus. Other NU departments are looking into electrifying their fleets as well.
Another recent development in the electric vehicle strategy was installation of four electric vehicle-charging stations. Evanston campus commuters and visitors who drive electric hybrid vehicles can now "fill up" for free at the four stations. These stations are located on the first floor of the North Campus parking structure and in the Visitors Center parking structure off of Arts Circle Drive. They were installed as part of a partnership with Schneider Electric, a supporter of sustainability at NU and the Institute for Sustainability and Energy at Northwestern (ISEN). Can you imagine not paying for gas for your daily commute? For when public transportation isn't an option, NU is working to make it happen.
But this is just the beginning. "The Strategic Plan for Sustainability Transportation Working Group is looking at what NU's long-term strategy should be, for example, there are dozens more fleet vehicles that could be replaced and there is the opportunity to work with our car-sharing partners, such as Zipcar and Enterprise CarShare. Some of our peers are even piloting fully electric shuttle buses!" Stated Director of Sustainability, Rob Whittier. Keep an eye out in the sustainNU newsletter to see what's coming down the road (pun intended).