Dance Marathon leaves smaller footprints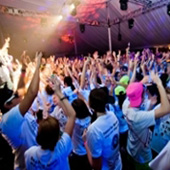 With the Northwestern University Dance Marathon (NUDM) happening earlier this month, you've probably heard stories about the 30 straight hours of dancing and the $1.13 million raised for the Starlight Foundation. What you might not have heard is how NUDM worked to reduce environmental impact by minimizing its carbon footprint and diverting waste through composting and recycling.
In partnership with the Associated Student Government Sustainability Committee (ASG SusCom) and the Office of Sustainability, the NUDM food committee collected all food waste from the event for composting, diverting the waste from landfills. NUDM also tracked their energy usage and purchased one metric ton of carbon credits to offset the energy consumed during the event. And in addition to recycling more than 3,000 pounds, NUDM provided each dancer with a reusable bottle, which eliminated the need for 3,400 plastic water bottles!
ASG SusCom and NUDM continue to explore creative ways to reduce the event's impact including more energy efficient lighting, making NUDM Trivia paperless, reducing flyering, offering solar-powered phone chargers for dancers, and renting an energy-generating dance floor.
NUDM is one of the largest student-run philanthropies in the nation and most certainly the largest philanthropic event on NU's campus. Since it was founded in 1975, Northwestern students have raised more than $15 million for more than thirty different beneficiaries. This year's beneficiary helps children with critical or chronic illnesses live more comfortably during their long stays at the hospital. The funds raised from NUDM will help Starlight Foundation build 10 Starlight Sites in Chicagoland hospitals that help to decrease stress, improve moods, and relieve fears of the extended-stay pediatric patients. They transform designated areas in hospitals to playrooms, teen lounges, and "no white coat zones." The Office of Sustainability is thrilled to help this influential event continue their efforts to go green.