Building with sustainability in mind
NU is committed to managing its impact on the environment through strategic initiatives to reduce energy and resource consumption as well as to eliminate waste. In fact, all new construction and major renovation projects, regardless of scope or cost will be Leadership in Energy and Environmental Design (LEED) Gold certified. According to LEED's website, "LEED certified buildings save money and resources and have a positive impact on the health of occupants, while promoting renewable, clean energy." Below are a few buildings that have either already received certification or are pursuing certification:

Harris Hall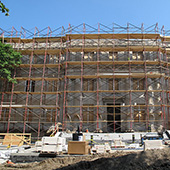 Year Built: Originally built in 1914, renovated in 2009 and 2010
Certification Received: LEED Gold
Green Features: 
Over 75 percent of existing walls, floors, and structure were reused.
Bicycle storage as well as changing and shower facilities were installed to make it easier to bike to class or work.
Harris Hall outdoor landscaping employs native plant species. By planting species that naturally thrive in the Chicagoland climate, this limits the need for fertilizer and irrigation.
Music and Communications Building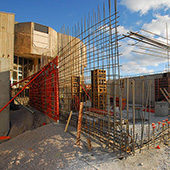 Year Built: Construction started summer 2012, set to open Spring 2015
Certification Received: Pursuing LEED Gold
Green Features: 
The exterior is primarily glass to take maximum advantage of the site's lakefront location and views of the Chicago skyline.
A new Music and Arts Green was created to the west of the building that will provide a 120-foot wide pedestrian-friendly green space. This creates a large public open space that can become a focal point for special events and passive recreation.
Stormwater will be collected and used for irrigation.
Silverman Hall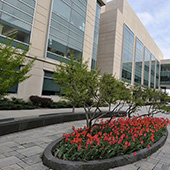 Year Built: Constructed from 2007 to 2009
Certification Received: LEED Gold
Green Features: 
A cistern for recovery of rainwater and underground subsoil drainage was installed to assist with irrigation, reducing water usage. The cistern holds 37,000 gallons of water and is located in the grassy area between the two wings, north of the building.
Chilled beams run throughout building for localized cooling to reduce the need for air conditioning.
Low volume fume hoods were installed to drastically reduce energy use in labs. These hoods are used while researchers preform tests that contain hazardous chemicals. With low volume fume hoods, this limits the amount of time that clean air is being pumped in to the testing area to only when necessary.
Keep an eye out for next month's newsletter featuring the new Kellogg School of Management, Wieboldt Hall, and Kresge Hall.