Building a better Northwestern
NU is committed to managing its impact on the environment through strategic initiatives to reduce energy and resource consumption as well as to eliminate waste. In fact, all new construction and major renovation projects, regardless of scope or cost will be Leadership in Energy and Environmental Design (LEED) Gold certified. According to LEED's website, "LEED certified buildings save money and resources and have a positive impact on the health of occupants, while promoting renewable, clean energy." Last month, we profiled Harris Hall, the Music and Communications Building, and Silverman Hall. Learn about three more buildings that have received or are pursuing certification:
New Kellogg School of Management Building
Year Built: Construction started April 2014, set to open late 2016

Certification Received: Pursuing LEED Gold
Green Features:
By using geothermal energy that utilizes the earth's core temperature to heat and cool the building, this will save 1,450 megawatt-hours of electricity, which is enough to power 130 average US homes for a year.
Targeting energy use of 40 percent below the baseline set by code with technology like LED lighting which reduces electricity needed to light the building and improves light output.
Underfloor air distribution in classrooms improves heating, ventilation, and air conditioning (HVAC) efficiency and reduces the environmental impacts of controlling the building temperature.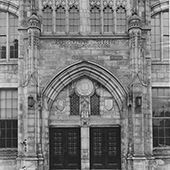 Wieboldt Hall
Year Built: Originally constructed in 1927, renovations were complete in 2008

Certification Received: LEED Gold

Green Features:
Large windows with clear insulating glass were installed to emit daylight to all of the occupied spaces. Daylight control is provided by fabric mesh shades in all of the windows.
Two large classrooms were developed to optimize distance learning. This allows real-time video reception from off-site locations and distance transmission from the classroom. This lowers transportation costs to get to and from class, which lessens NU's carbon footprint.
Before the renovation, the fourth and fifth floors were air-conditioned by individual window units. The new mechanical system that serves both floors is more energy efficient and has improved temperature controls.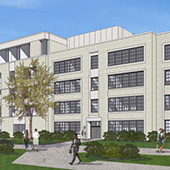 Kresge Hall

Year Built: Originally built in 1955, construction on the renovation began in Fall 2014 and is set to finish Winter 2016

Certification Received: Pursuing LEED Gold

Green Features:
During demolition, 95 percent of debris was recycled. This included wood, cardboard, metal, and concrete materials.
Low-flow bathroom fixtures were installed to provide a 30 percent reduction in restroom water use.
Daylight harvesting allows sunlight to be used to heat the building when available, reducing the need for pumping heat to the building.