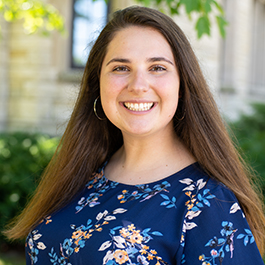 Assistant Director
Hayley Kretchmer (she/her) is pleased to serve as an Assistant Director of Student Organizations & Activities at Northwestern University! Hayley graduated from Ithaca College in May of 2019 with her Bachelor of Arts in Communication Studies. She was fortunate to first join the NU SOA team as a Graduate Assistant during the 2019-2020 academic year, and it was this experience that inspired her to pursue her M.S.Ed. in Higher Education and Student Affairs at Indiana University.
While at IU, Hayley served as the Graduate Assistant for Curriculum Development within Residential Programs and Services. She also served as a Hearing Officer for the Office of Student Conduct for three semesters. After graduating in May of 2022, Hayley became the Dean of Students (summer term) for a pre-college program hosted at Wellesley College before starting her role at NU. 

 

Born and raised in Evanston, Hayley has always had a deep admiration for the Northwestern community and is so glad to rejoin the team that launched her on this career path. When she's not in the office, you can find Hayley in the audience of any musical, walking along the lakefill, driving the ski boat at camp, or traveling with friends to different cities across the globe. Her favorite color has always been purple…it's meant to be!