The Prepare for Fall section includes information and tasks related to the administrative side of your preparation as a student at Northwestern.
Reading One Book One Northwestern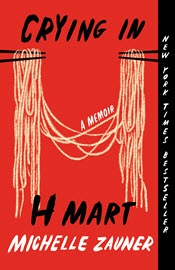 To build community across the University, the Office of the President every year chooses a book for campus-wide conversation and special events. The 2023–24 selection is Crying in H Mart by Michelle Zauner. Zauner is a Korean American musician and author, best known as the lead vocalist of the alternative pop band Japanese Breakfast. Her 2021 memoir, Crying in H Mart, spent 60 weeks on the New York Times hardcover non-fiction bestseller list.
A free electronic copy of the book will be sent to you in early July. Many classes and events throughout the coming year will refer to it, so it is this summer's must-read! Reading the book is on your Purple Prep Checklist to complete by September 10. The author will be on campus on October 18!
Learn more about One Book One Northwestern.
Completing your Accounts and Profile Setup
Preparing for the Academic Experience
Preparing for Wellness Care